Casey Anthony's Parents On Dr. Phil: 'All I Know Is That Caylee's Not With Us Anymore'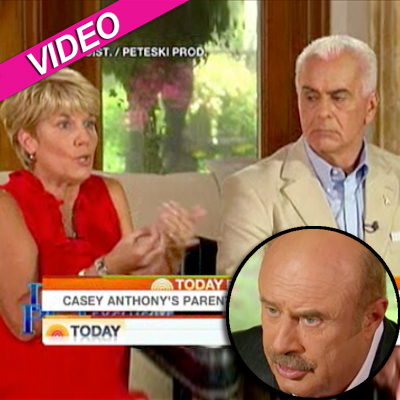 By Amber Goodhand - RadarOnline.com Reporter
Dr. Phil holds nothing back during the first interview with Casey Anthony's parents, George and Cindy, since their daughter was acquitted of murdering their granddaughter Caylee, and RadarOnline.com has a new clip.
In excerpts from Dr. Phil's interview shown on Monday's Today show, he drills Cindy on a chilling MySpace message she posted 12 days before she called 911 to declare Caylee missing.
Article continues below advertisement
"My Caylee is missing. She came into my life unexpectedly just as she has left me. Jealousy has taken her away, jealousy from the one person that should be thankful for all the love and support given to her," the message reads.
"This mother gave chance after chance for her daughter to change but instead more lies, more betrayal."
Cindy tells Dr. Phil that she didn't mean it figuratively, and it wasn't until the 31 days had passed that she really knew Caylee was missing.
"Caylee was missing in my heart that day. She wasn't missing physically, in the sense, because I thought I knew where she was at," Cindy said.
"I wanted Casey to know how much she was hurting me. And I thought she was purposely keeping Caylee away from me."
When asked about the smell in the trunk of Casey's car, that both of her parents admitted to smelling, and prosecutors claimed was Caylee's decaying body, Cindy and George had no explanation for Dr. Phil.
Article continues below advertisement
"Truthfully, to this day I don't know. To be honest," Cindy said.
"Do you want to believe Caylee was back there? I don't want to believe it. But I'm going by what investigators have told me," George said.
"All I know is that Caylee's not with us anymore. I know that, I know that."
Dr. Phil told Matt Lauer on the Today show that he felt both of Casey's parents held a tremendous amount of distain for the defense team that made numerous claims about the Anthony family, and George in particular.
"George would never have put us through those six months of not knowing where Caylee was if he knew where Caylee was," Cindy said.
"Because I watched his heart break every single day and I watched him as frantic as he was."
Dr. Phil's interview with Cindy and George will be airing in two parts, on Tuesday, September 13 and Wednesday, September 14.
radar_embed service=5min.com src=" http://pshared.5min.com/Scripts/PlayerSeed.js?sid=1126&width=486&height=412&playList=517713124&sequential=1&shuffle=0"