Bungee Terror As Woman Plummets Into Crocodile Infested Zambezi River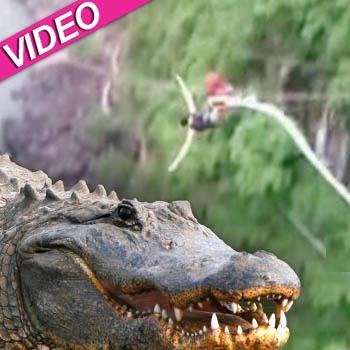 By Debbie Emery - Radar Reporter
An adrenaline-seeking Australian woman got a lot more danger than she bargained for when she strapped into a bungee harness and made a dramatic leap over the Zambezi River in Africa, and RadarOnline.com has video of her near-death experience.
Enjoying a New Year's Eve jump, Erin Langworthy of Perth plummeted headfirst into the crocodile infested river that divides Zambia and Zimbabwe when the bungee cord snapped after she jumped from the platform at Victoria Falls, a staggering 364 feet above the water.
Article continues below advertisement
Reese Witherspoon's Black Eye -- The First Pic Of Her Injury
Even with her feet still tied together, the 22-year-old miraculously managed to swim to safety despite blacking out when she hit the water.
"It felt like I had been slapped all over," Erin told Channel Nine in Australia, as she explained how the cord got caught on rocks and almost dragged her down.
"I actually had to swim down to yank the bungee cord out of what it was caught in," she explained.
When rescued at the rocks on the side of the river, Langworthy still wasn't out of danger.
"All the water I inhaled meant I couldn't breathe and I made them roll me on to my side and that's when I started coughing up water and blood," she revealed.
"I think it's definitely a miracle that I survived."
Fortunately the Australian survived with just severe bruises and battered-looking arms and back from her experience - but no crocodile bites! She was treated at Victoria Falls clinic in Zimbabwe and then evacuated to South Africa, according to Zambia's Southern Province police commissioner Brenda Muntemba.
Article continues below advertisement