Kid Cudi In Tears Watching Teen Boy's Video About Him, Made Days Before He Died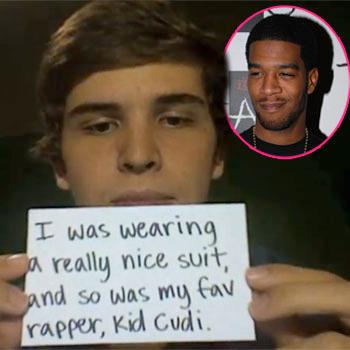 Rapper Kid Cudi "broke down" in tears after watching the video of 18-year-old Ben Breedlove who says he saw Cudi in a near-death experience while in the hospital, just days before he actually died.
The brave teen passed away on Christmas Day after a life long battle with the heart condition hypertrophic cardiomyopathy. But he left a heartfelt video about his life which his family posted on YouTube, and has now received over 2.3 million hits.
Article continues below advertisement
"I am so sad about Ben Breedlove," Kid Cudi wrote on his blog this week. "I watched the video he left for the world to see, and him seeing me in detail, in his vision really warmed my heart.
"I broke down, I am brought to tears because I hate how life is so unfair. This has really touched my heart in a way I can't describe, this is why I do what I do. Why I write my life, and why I love you all so much."
Ben's video, which his family found just hours after his death, showed him revealing a series of note cards which told his life story, set to the rousing Gary Jules' song Mad World.
He said in the handwritten messages which he flashed up to the screen, that he had several near-death experiences in his young life and recounted his most recent one which happened after he collapsed in the hallway of his high school.
Article continues below advertisement
Ben shared that in the few minutes when he stopped breathing, before he was revived by the emergency services, he had a vision of being in a white room and was with his idol Kid Cudi.
"Kid Cudi brought me to a glass desk and put his hand on my shoulder," Ben wrote. "Right then my favorite song of his came on, 'Mr Rager.' The part where it said 'When will the fantasy end... When will the heaven begin?' And he said, 'Go Now.'
"Right then, I woke up and the EMS were performing CPR. I didn't want to leave that place. I wish I never woke up."
Kid Cudi, real name Scott Mescudi, ended his blog with a message for Ben's family.
"Life is really f***ed up sometimes, but I know Ben is at Peace, and I hope he gets a chance to sit and talk with my Dad," the 27-year-old wrote. "We love you Ben. Forever. Thank you for loving me. To Ben's family, you raised a real hero, he's definitely mine. You have my love."
Article continues below advertisement
More than 1,500 people attended Ben's memorial yesterday at Gateway Church in Austin where his loved ones paid their last respects to the brave young man.
His sister Ally spoke at the service and recalled him talking to her about his vision of his near death experience.
"God let me feel that peace before I came back so that I would know that heaven is worth it," Ben told his sibling.
The Breedlove family has set up a memorial fund in the name of their son - The Ben Breedlove Memorial Fund through the Africa New Life Ministry.