Mother Of Teen Boy Who Made Heartbreaking Video Before Dying Says, 'We Have Comfort He's In A Better Place'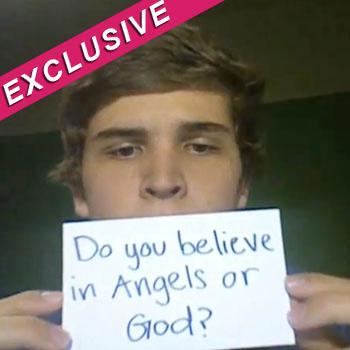 Ben Breedlove's mother Deanne has spoken exclusively to RadarOnline.com about the tragic passing of her son on Christmas Day and the legacy he has left behind.
"We have comfort that he is in a better place," the valiant mom said. "My husband Shawn and Ben's siblings were with him when he passed but we are preferring not to think about that. It's too sad.
"Our bodies may ache but our hearts and minds know that he is in a better place. Ben had his challenges but he went to God for help and through him he was able to pass on a message of hope and peace.
Article continues below advertisement
"Ben wouldn't want his legacy to be about himself but about God's message and to help other people."
As RadarOnline.com previously reported, the brave 18-year-old boy filmed a poignant video of himself just days before he died which has now become a YouTube sensation. The smiling teen used note cards to tell his heartbreaking story of his life long struggle with his chronic heart condition.
The high school senior eventually succumbed to hypertrophic cardiomyopathy, a deteriorating condition that causes a thickening of the heart muscle, leading to cardiac arrest.
But, his mother says that although it is a tough time for the family, they are finding peace. Deanne said the family were "doing ok all things considered" and that they were "touched and inspired by all the well wishes they had received."
The family found the tape Ben made just hours after he died and said it was a "gift." The two videos they posted online have now received nearly 2 million hits and rising.
Article continues below advertisement
"It's so overwhelming," Deanne said from her home in Texas. "Ben's talent was that he was compassionate and caring and unbelievably tender-hearted.
"Ben wouldn't even have been into all of the attention he's now receiving. He would have preferred to sit back at home with his family and watch online how deeply positive everyone was receiving the message."
In the first part of the video, set to Gary Jules' Mad World, the handsome young man is seen smiling as he holds up his first card: "Hello, I'm Ben Breedlove" followed by: "All my life I've had a heart condition."
"As I grew older, I learned more that it is dangerous," he says on another card. "It has scared me a lot, and I hate that feeling."
"I was never allowed to play all the sports that my friends did," he continues. "It kinda sucks that I missed out on that part of my life."
Ben shares his many hospital visits, near death experiences and operations, at one point pulling down his shirt to show his large scar from when he had a pacemaker inserted in 2009. "I was scared to die, but am SO glad that I didn't," he bravely admits.
Article continues below advertisement
In the second video, Ben looks much more somber as he goes on to reveal: "About two weeks ago, December 6, 2011."
Was the third time I cheated DEATH.
"Was the third time I cheated DEATH."
He then recalls being rushed to the hospital for life saving treatment and experiencing a bright light above him and an overwhelming feeling of peace in a white room that he says he didn't want to wake up from.
The last card on his video reveals his beliefs.
"Do you believe in angels or God?" he wrote. "I do."
Rest in peace Ben Breedlove.
If you would like to learn more about hypertrophic cardiomyopathy or make a donate to help fight the disease, you can visit the HMCA website.
In addition, the Breedlove family has set up a memorial fund in the name of their son -- The Ben Breedlove Memorial Fund through the Africa New Life Ministry.
To watch Ben's touching videos click here.