Reese Witherspoon's Black Eye -- The First Pic Of Her Injury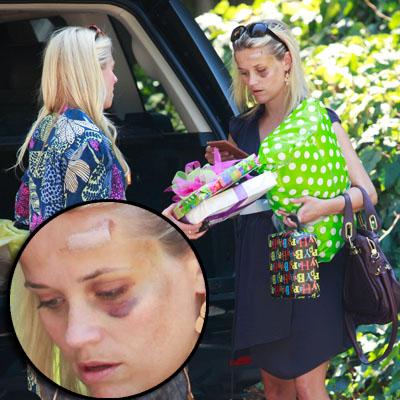 Oscar-winner Reese Witherspoon looked in good spirits despite sporting a black eye and bruises as she headed to a birthday party in Los Angeles on Monday, less than a week after she was struck by a car in Santa Monica, California.
This is the very first photo that clearly shows the extent of her injuries from the accident; fortunately she was not seriously injured.
As RadarOnline.com previously reported, the Water For Elephants beauty, 35, was hit by a car in Santa Monica last week as she was jogging.
Article continues below advertisement
Witherspoon was jogging across the street when she was clipped by a car, police said.
The 84-year-old driver was only going 20 mph when she struck Witherspoon, limiting the star's injuries to virtually what you see in this just-released photo.
Witherspoon was checked out at a local hospital and then released; the driver was cited for failing to yield to a pedestrian in a crosswalk.
RELATED STORIES:
Reese Witherspoon & Her 'Mini-Me' Daughter Ava -- Before The Accident