Reese Witherspoon Dishes on Divorce, 'It Was Really, Really Stressful'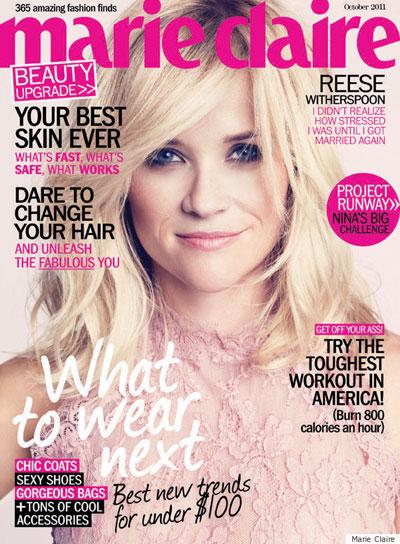 She still has that newlywed glow six months after walking down the aisle to second husband Jim Toth, and now Reese Witherspoon is finally opening up about her first failed marriage.
"I was hard on myself when I got divorced. And until I got remarried, I don't think I realized how stressed I was," Reese revealed in the new issue of Marie Claire Magazine.
The Oscar winning actress said that her high profile split from Ryan Phillippe in October 2006 hit her a lot harder than she admitted at the time and left her panicking about raising their two children, Ava, 12, and Deacon, 8, on her own.
Article continues below advertisement
"I don't think I recognized how anxious I was about being a single parent. It was really, really stressful. It's not easy on anybody," admitted the 35-year-old.
The actress quoted producer and writer Nora Ephron, who wrote: "You know, don't kid yourself, divorce is really hard on your children. It's really hard. Children will not be better for it."
"I mean, there are extenuating circumstances. I'm sure everybody's life is different, so I shouldn't say that, but it's really traumatic," reflected the Water For Elephants star.
After a high profile romantic failure with Rendition co-star Jake Gyllenhaal that bit the dust in November 2009, Reese tied the knot with talent agent Toth in March.
"Now I feel a great sense of relief and an incredible amount of support from my husband," she said.
"Somebody close to me once said, 'Oh, no man will ever accept your children.' And I just thought it was the most horrifying thing someone has ever said to me in my entire life," admits the Southern bell.
MORE ON:
Reese Witherspoon
Article continues below advertisement
"I was determined to find somebody who would make that not true. And I got lucky. I did. I got very lucky, and he's wonderful. And so wonderful with the children. I'm very blessed."
Meanwhile, her ex-husband Phillippe is widely reported to be the father of ex-girlfriend, Alexis Knapp's new-born daughter, Kailani Merizalde Phillippe Knapp, who was born on July 1.
RELATED STORIES: