Reese Witherspoon & Her 'Mini-Me' Daughter Ava -- Before The Accident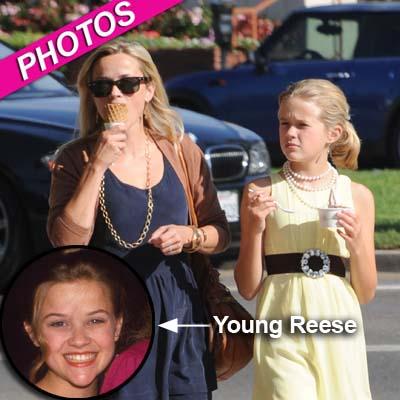 These photos were taken the same day that Reese Witherspoon was hit by a car in Santa Monica, California -- presumably before the incident that thankfully turned out to be minor.
Although the images of Reese, her kids, and new hubby Jim Toth are charming, what struck us about the photos is how Reese's daughter Ava, 11, is growing up to be the spitting image of the Legally Blonde star.
Check out the insert photo -- that's actually Reese around the same age as Ava! (BTW, Ava turns 12 tomorrow -- Happy Birthday!)
Article continues below advertisement
Also make sure you click through the photo gallery to see Reese and her dapperly dressed family as they enjoy ice cream in Brentwood on a hot Southern California day.
As RadarOnline.com previously reported, Witherspoon, 35, was hit by a car in Santa Monica Wednesday as she was jogging.
Police say Witherspoon was crossing the street when a car being driven by an 84-year-old woman clipped the Oscar winning star.