Who Is Tim Tebow? 7 Things You Didn't Know About The Christian Football Star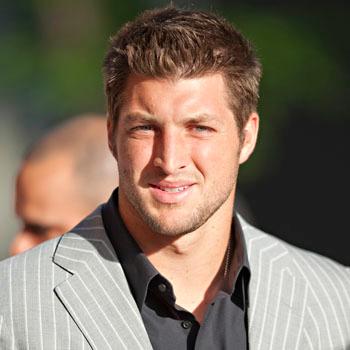 By Debbie Emery - RadarOnline.com Reporter
Denver Broncos quarterback Tim Tebow transcended from the football field to being the subject of a hilarious SNL sketch on Saturday, prompting many non-football fans to want to know more about the deeply religious sports star.
Although his team fell to Tom Brady and the mighty New England Patriots on Sunday, Tebow has been experiencing an outstanding season this year and defied many critics who doubted his ability to make it in the NFL.
Article continues below advertisement
Despite his talent on the field, it is the 24-year-old Florida native's acts out of his football uniform that attract the most attention, and RadarOnline.com reveals seven things you didn't know about the Christian athlete.
7. He was born in the Philippines where his parents were working as Christian Baptist missionaries. His mother, Pamela, suffered from a life-threatening infection during her pregnancy and doctors expected the baby to be still-born and she claims they recommended an abortion for the sake of her health, but she refused.
6. Tim shares his parents' religious dedication and while other players celebrate when their team scores, he drops down on one knee into a prayer to thank God for their success. The move is so unique that it has been dubbed 'Tebowing' and is even being copied by fans all around the world, who drop down in honor of their hero. The website Tebowing.com has photos of copycats doing the signature move everywhere from the dusty roads of India and outside religious statues in Japan, to high school gyms in middle America. One cancer stricken fan even tweeted Tim to tell him he was "Tebowing while chemo-ing."
Article continues below advertisement
5. His habit of thanking God and "My Lord and Savior, Jesus Christ" in news conferences after winning big games has prompted backlash from critics who think he should keep his Christianity private.
4. He was named the most outstanding player in college football in 2007 and became the first sophomore to take home the Heisman Trophy, as well as the first home-schooled athlete to win the coveted award.
3. Never scared to voice his opinions to even the biggest audience, he filmed a controversial Super Bowl commercial in 2010 for the pro-life Christian group Focus on the Family. Despite the ad mostly dealing with his mom's experiences while pregnant with Tim, who she called her "miracle baby," it sparked outrage from women's groups before it even aired.
2. Throughout his college career with the Florida Gators, Tebow wore biblical verses written on his eye black. During the 2009 BCS Championship Game he donned John 3:16 on his face and more than 92 million people Googled the verse after the game. In 2010, a new rule (since nicknamed 'The Tebow Rule') banned players from writing messages in the black paint as it was considered distracting.
Article continues below advertisement
1. While millions of women would love to get up close and personal with the 6'3" hunk, Tebow revealed in a news conference that has gone down in sports folklore that he was a virgin. When a cheeky reporter asked, "Are you saving yourself for marriage?" the quarterback laughed and admitted, "Yes, I am," telling the room of reporters that he was stunned to be asked that question in the midst of the post-game discussion.