Seven Things You Didn't Know About The Newest Bond Beauties, Bérénice Marlohe & Naomie Harris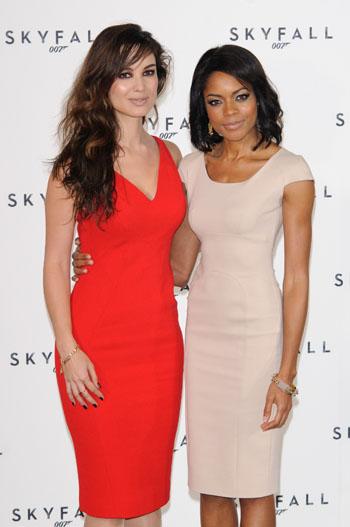 They're the latest beauties to be added to the prestigious Bond franchise -- meet French actress and model Bérénice Marlohe and Naomie Harris, who stood alongside A-listers Daniel Craig and Javier Bardem at a news conference this week in promotion of the 23rd 007 film, Skyfall.
That said, RadarOnline.com reveals seven things you may not know about the sexy stunners that will shake, not stir, hearts on the silver screen in next October's highly-awaited feature.
Article continues below advertisement
7. Bérénice got her feet wet on French TV: She's had roles on shows such as 2002's Père Et Maire, 2006's R.I.S. Police Scientifique and 2006's Équipe Médicale d'Urgence -- a show revolving around a hospital emergency room.
6. Bérénice's role in Skyfall -- "a glamorous, enigmatic character" named Severine Skyfalle -- marks her English-speaking debut.
5. You've seen gorgeous Naomie on the silver screen before: She's had roles in films such as 2006's Pirates of the Caribbean: Dead Man's Chest and 2007's Pirates of the Caribbean: At World's End.
4. The 5'8" stunner Naomie's not just a pretty face: she received classic acting training at Bristol Old Vic Theatre School, which was opened by Sir Laurence Olivier in 1946.
3. Naomie's a continental carpooler, working in both the U.S. and England: She said of working in the different countries, "It's business first and foremost in the U.S., and you're a commodity. But I love their can-do mentality. They enjoy success and all the doors are open, no matter what you look like or where you're from. It's a big, hungry machine that constantly needs new talent to feed it, so everyone gets a chance. I'm sure my career would have petered out if I'd stayed in Britain; there's just not enough work here. On the other hand, I love coming back and being normal."
Article continues below advertisement
2. Naomie's been getting her limbs loose and her aim straight for the role: She said of her preparation to play a field agent named Eve, "I've been doing yoga three times a week to get into shape and stunt-driving and firing machine guns, which I've discovered I've got a real taste for."
1. Severin might not be Bérénice's sexiest role: She wore only a red wig in a steamy sex scene for Équipe Médicale d'Urgence, making simulated love to a man while facing a mirror.