7 Things You Don't Know About The Girl With The Dragon Tattoo's Rooney Mara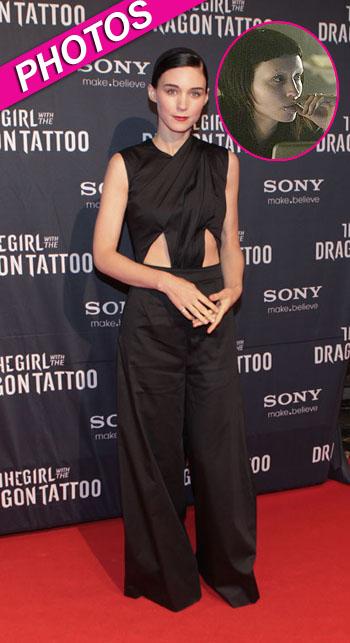 By Adam S. Levy - Radar Staff Writer
The Girl with the Dragon Tattoo looks to be a breakthrough role for up-and-comer Rooney Mara, so RadarOnline.com is taking a closer look at the buzz-worthy Hollywood beauty, who plays computer-hacker Lisbeth Salander in the highly anticipated motion picture.
With that in mind, here's seven things you might not have known about the 26-year-old stunner ...
7. You've already seen her here and there: She's appeared on hit TV shows like Law & Order: SVU and ER; and films like A Nightmare on Elm Street and The Social Network.
Article continues below advertisement
6. She's got pigskin in her blood ... but she's not a fan: Her great-grandfathers are football magnates New York Giants founder Tim Mara and Pittsburgh Steelers founder Art Rooney, Sr., while her father is Giants exec Timothy Christopher Mara. Still, don't expect to see her in the owner's box week in and week out. "I didn't love football growing up, and I'm not obsessed with it," she told Allure. "My whole family is really into it. I'm not. But I do really like it, and of course I appreciate it because of my family -- it's a huge part of my heritage."
5. She's an accomplished philanthropist: Mara heads a non-profit called the Faces of Kibera, a charity earmarked to help citizens of the overcrowded area in Nairobi, Kenya with much-needed food, shelter and medical aid. To raise funds, Mara auctions off Steelers and Giants memorabilia, as well as tickets to training camp events. "I fell in love with a bunch of the kids there, one little girl in particular and I just knew that I could and needed to do something more to help them," she told Filmmaker magazine. "I love acting, but you spend enough time imitating life and getting wrapped up in this industry, you tend to forget about the real world ... I am happy I get to do both."
Article continues below advertisement
4. Her bright Hollywood future is rooted in the past: Rooney's not shy to open up about her love of old Hollywood lore. She told Filmmaker magazine she got a taste for the business "watching musical theater and old movies that my mom would throw on, like Gone with the Wind, Rebecca, and Bringing Up Baby." She lists her acting inspiration as Tinseltown icon Gena Rowlands: "I am just mesmerized and inspired by her. I've been watching A Woman Under the Influence and Opening Night over and over."
3. How dedicated is she to her craft, you ask? She got her nipple pierced for the authenticity of The Girl With the Dragon Tattoo: "I'm naked quite a lot in the movie," she told Allure. "And I thought, she has it in the book, and she should have it."
2. There's no need to hire a body double for her roles: "Nudity is such a huge part of the character in the book, so I never thought twice about it," she said. "There was no time for hesitation. I didn't have time to second-guess anything or be scared: I just showed up and was comfortable."
Article continues below advertisement
1. Her sister Kate is also an actress: Kate Mara has been seen in plenty of big name productions, with credits in films like We Are Marshall, Brokeback Mountain, Iron Man 2 and 127 Hours; and TV shows like 24 and Entourage. Rooney told Allure that despite their common career choice, there's no sibling rivalry brewing there. "We're so different that there's never been a competitiveness between us in work. She is probably much more likable than I am -- she's really outgoing and fun -- I'm definitely more of the odd sister."