Welcome To The Jungle! Transsexual Supermodel Andrej Pejic Braves The Amazon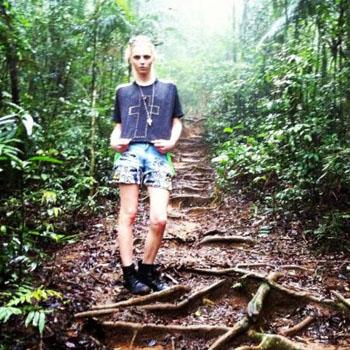 Dude still looks like a lady (and a super stylish one at that!), even when he is in the middle of a jungle!
Andrej Pejic, the male model who is revolutionizing the female fashion industry one strut down the catwalk at a time, refuses to dress less than impressive and proved it on Thursday by Tweeting a photo of himself wearing women's clothes in the middle of the Amazon jungle – and RadarOnline.com has the photo.
Article continues below advertisement
Wearing brightly patterned shorts, a crucifix t-shirt, black shoes and a crucifix necklace, it was hard to tell that the sexy and stylish 20-year-old, who was recently featured in a lingerie campaign for Dutch department store Hema, was indeed born a man!
As RadarOnline.com previously reported, Pejic, who has modeled for everyone from Jeremy Scott to John Galliano and Jean Paul Gaultier, admits that competing with the top female models has forced him to follow an extremely low calorie diet and engage in intense cardio workouts.