Transvestite Male Model Has 25 Inch Waist! Admits Drastic Diet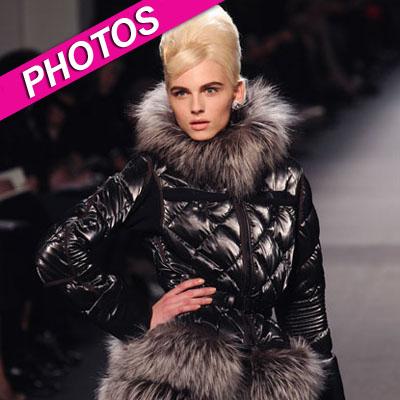 RadarOnline.com Style & Beauty Editor
Dude looks like a lady supermodel and is forced to eat like one too!
Andrej Pejic, a Serbian male model who has soared to supermodel status by strutting his stuff in women's clothes on international catwalks, has admitted that it is not very easy to maintain his wispish figure.
"Let's be honest," the beyond stick-thin 6'2" beauty dished to British Grazia magazine. "You can't eat much if you want to do this."
Article continues below advertisement
Pejic, who has modeled for everyone from Jeremy Scott to John Galliano and Jean Paul Gaultier, admits that competing with the top female models has forced him to follow an extremely low calorie diet and engage in intense cardio workouts.
"To do womens wear I have to be disciplined. My waist has gone from 29 to 25 inches, my hips are 35 inches," he says.
But don't ask about his sexuality; the 20-year-old has never talked about his orientation, or admitted to being gay or straight, nor has he ever identified himself as a woman. He has, however, been dressing up in women's clothes since his teens.
He recently told New York Magazine about his younger years growing up: "When I started experimenting, it was to make myself feel happy, to look in the mirror and be satisfied. I never did drag or anything like that. It was always that I wanted to be pretty, to look beautiful, as a girl would want to."
Not everyone has been accepting of Pejic's androgynous persona. Dossier Journal reported that Barnes & Noble informed them that they were going to censor the cover of their magazine, which featured the shirtless model, because of the possibility that it could be interpreted as a young, naked female.
The bookstore later issued a statement denying the allegations.
Currently represented by Storm agent Sarah Doukas, who was responsible for spawning the career of Kate Moss, amongst others, it's likely you'll be seeing a lot more of this young catwalk crawler in the future.
RELATED STORIES: