ON YOUR RADAR: The 10 Most Overexposed Bikini Babes Of 2011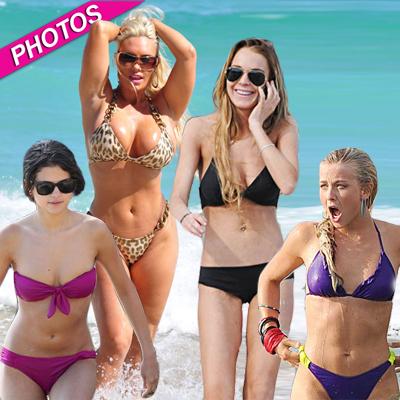 By Leah Ornstein - Radar Style & Beauty Editor
These Hollywood hotties were overexposed in more ways than one this year!
From their nearly naked beach romps to headline dominating antics, these sexy celebs were everywhere we looked in 2011.  RadarOnline.com has photos of the 10 most overexposed bikini babes of the year, as part of our special ON YOUR RADAR feature.
Engagements, weddings, divorces, baby announcements, modeling contracts, sweatshop scandals -- was there anything that Kim, Kourtney, Khloe and the rest of the Kardashian Klan didn't get into in 2011?  Though we love the crazily curved family and their willingness to share their lives with the world, we could use a little vaKation.
Article continues below advertisement
Lindsay Lohan certainly scored her fair share of headlines and it certainly wasn't because of any critically acclaimed performances.  The troubled actress made the most à la mode of her visits with the judge, transforming the courtroom into a red carpet with her designer duds, took more than one vacations in jail and stripped off all her duds and posed provocatively for Playboy.
Unless you lived under a rock, it would be impossible not to know that Selena Gomez and Justin Bieber are in love. The two teens put their puppy love romance on display this year, frolicking around beaches in their bathing suits, engaging in PDA fests all around the world, and coordinating their red carpet ensembles.
From LeAnn Rimes' devotion to Twitter to Snooki's high-profile weight loss, find out what other stars were overexposed in 2011 by clicking here.