Hawaiian Hottie! Lindsay Lohan Shows Off Her Cover Girl Bikini Body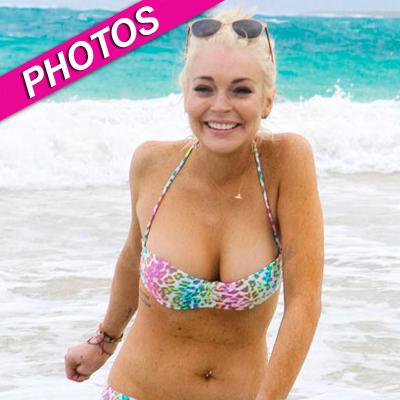 Lindsay Lohan is currently 'working hard' in beautiful Hawaii, doing what she does best, stripping down to a bikini and showing off her curves, and RadarOnline.com has the photos.
The troubled 25-year-old escaped her legal woes and headed to Oahu with sister Ali and stylist friend Patrick Aufdenkamp to attend the Bamzai Pipe Masters Surf Contest.
There's no doubting that Lohan worked hard to get in tip top shape for her recent naked Playboy photo shoot, and she flaunted the results in a multi-colored leopard print bikini as she frolicked in the waves.
Article continues below advertisement
The Mean Girls star was paid a reported $1 million for her Marilyn Monroe inspired shoot with the famed men's magazine, and in true Lohan style there's already been drama after the photos were leaked on the internet, forcing Playboy to move the scheduled publishing date forward.
Along with the stunning photo shoot, Lohan also opened up to the magazine in a no holds barred interview — talking about her sexuality and lessons she has learned in her life.
"Sex and sexuality are a part of nature, and I go along with nature. I think Marilyn Monroe once said that," she says. "I certainly agree with her. Knowing yourself and your body is so important because it gives you confidence, and in life, women need confidence.
"Ultimately we are each responsible for ourselves and for our actions. Looking back, I probably would have listened to and taken more advice from the people whom I admire and would have followed through with it more.
Article continues below advertisement
"My stubbornness at 18 and 19 years old got in the way. During the past five years, I've learned that time flies faster than you think, and because you only live once you have to learn from your mistakes, live your dreams and be accountable."
And it seems that after years of scandal and legal drama she may finally have learned her lesson.
As RadarOnline.com previously reported, Lohan will be in court on Wednesday for a progress hearing in her theft case, and unlike previous occasions, Lilo will have a glowing probation report this time round.
"Judge Sautner gave Lindsay a new probation officer at her last court appearance. Her new probation officer is absolutely no nonsense, and she has seen it all. Lindsay has been a model probationer so far," a source close to the actress told RadarOnline.com.
"Lindsay has made scheduled meetings with her probation officer, has completed her court ordered community service requirement of 12 days by the progress report hearing, and attended all her psychological counseling sessions. Lindsay has actually completed more than the basic requirement of 12 days, and she is ahead of schedule to finish her duties at the morgue by March 29, 2012."