Lindsay Lohan Hits The Town The Night Before Court Appearance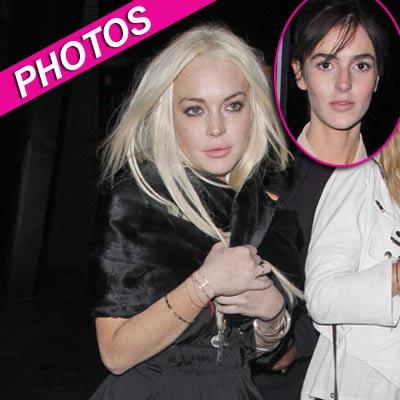 'Twas the night before court, and LiLo was out ...
Lindsay Lohan will face a judge Wednesday morning for an update on her probation in her theft case, but that didn't stop the actress turned Playboy model from taking in the Jay-Z concert with her sister Ali at the Staples Center in Los Angeles Tuesday night.
The Mean Girls star, 25, looked chilly in a black skirt, while her noticeably-thin younger sister Ali wore a fashionable see-through number.
Article continues below advertisement
PHOTO: LiLo Attends Jay-Z Concert Night Before Court
As we previously reported, LiLo is expected to receive a glowing report in her hearing Wednesday, which we'll be covering right here on RadarOnline.com.
"Judge Sautner gave Lindsay a new probation officer at her last court appearance," a source close to the actress tells RadarOnline.com. "Her new probation officer is absolutely no nonsense, and she has seen it all. Lindsay has been a model probationer so far.
"Lindsay has made scheduled meetings with her probation officer, has completed her court ordered community service requirement of 12 days by the progress report hearing, and attended all her psychological counseling sessions. Lindsay has actually completed more than the basic requirement of 12 days, and she is ahead of schedule to finish her duties at the morgue by March 29, 2012."
Lohan made headlines last week when the cover and pictorial for her upcoming Playboy issue leaked online; she was reportedly paid $1 million for the Marilyn-Monroe inspired shoot. She kept the ball of drama rolling with a travel issue that caused her to miss a scheduled appearance on The Ellen DeGeneres show Tuesday.