Lindsay Lohan Vs. Michelle Williams: Who Does Marilyn Monroe Best?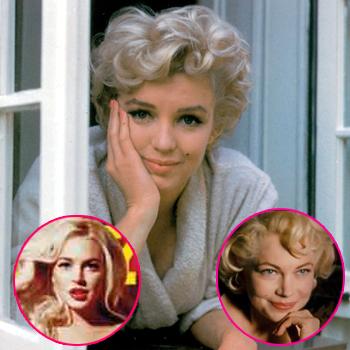 By Alexis Tereszcuk - Radar Senior Reporter
Marilyn Monroe was a big screen siren, a sex symbol who became an American legend after her untimely death, and many women have tried to copy her look and style, including Lindsay Lohan in a magazine photo shoot and Michelle Williams in a movie.
Lindsay, 25, channeled Marilyn in a new nude pictorial spread for Playboy magazine, on the cover and inside recreating some of Monroe's most famous poses.
Article continues below advertisement
"Sex and sexuality are a part of nature, and I go along with nature," Lindsay said in the accompanying interview. "I think Marilyn Monroe once said that. I certainly agree with her…Knowing yourself and your body is so important because it gives you confidence, and in life, women need confidence.
"It's a very male-dominated world to begin with, so knowing yourself and being comfortable with your body is an important thing for me as a woman. Everyone is entitled to their opinion, but this is mine."
Lohan has long admired Marilyn, and even named her clothing line 6126, in tribute to Marilyn's birth date of June 1, 1926.
Lindsay's airbrushed photos (no more tattoos) show her lying on a red sheet, with Monroe style peroxide blonde hair and bright red lipstick.
Meanwhile, Michelle, 31, is playing the bombshell in My Week with Marilyn and she's said even though she never met her, she feels close to the Some Like It Hot star.
Article continues below advertisement
"Is it too pretentious to say I feel I have a relationship with her?" she said in a recent interview. "The more time I spend with her, the closer I feel to her."
Michelle said she spent hours training to walk and talk like Marilyn, hoping to emulate her and also to try and relate to her.
"I remember thinking that if even a woman that beautiful clearly has trouble and is damaged and has insecurities, then we're all entitled," she said.