Chaz Bono And Fiancée End Their Engagement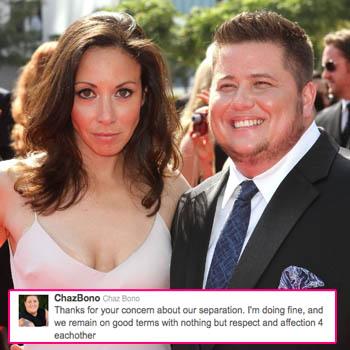 Chaz Bono and his fiancée Jennifer Elia have ended their engagement after just seven months, RadarOnline.com has learned.
The Dancing with the Stars alum took to Twitter to confirm the news of their shocking split, "Thanks for your concern about our separation," Bono wrote. "I'm doing fine, and we remain on good terms with nothing but respect and affection 4 each other."
As RadarOnline.com previously reported, Bono, 42, proposed to Elia last May in Seattle, with Chaz handing Jennifer the ring in a box, saying he wanted to get her something beautiful for her birthday.
Article continues below advertisement
The touching moment was captured on camera for Bono's documentary, Being Chaz, the follow-up to the Emmy-nominated Becoming Chaz.
Elia and Bono met before the transgender daughter turned son of Sonny and Cher started his sex reassignment surgery, but she remained his strong supporter throughout the process.
However, Bono's high profile appearance on DWTS, and the subsequent fire storm it created, worried Elia, who voiced her concerns for her fiancée's safety on Being Chaz, which aired in November.
MORE ON:
Dancing With the Stars
Right wing Christian and family values groups slammed ABC's decision to cast a transgender contestant, calling for a boycott of the network.
However, as RadarOnline.com previously reported, Bono and his dancing partner, Lacey Schwimmer, lasted six weeks before being voted off in October.
"I came on this show because I wanted to show America a different kind of man," he said after learning of the decision. "I know that if there was somebody like me on TV when I was growing up, my whole life would have been different."