Teenage Identical Twin Boys Become Brother And Sister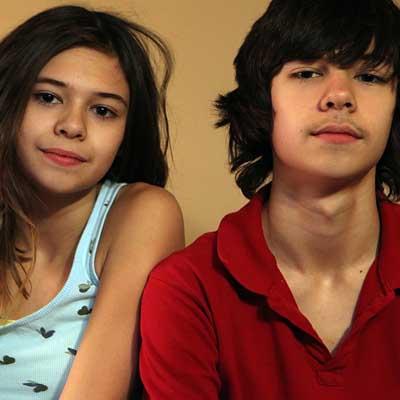 Twins Wyatt and Jonas Maines were once identical in every way but as they grew up their differences soon became more apparent than just wearing different clothes or cheering for opposite sport teams.
By the age of four, Wyatt was already preferring to play dress up in girls' clothes, totter around on high heels and choose Barbie dolls over Action Men.
When he walked out one day wearing a sequined shirt and his mom's shoes, his parents asked if he really wanted to wear that, and brother Jonas assured them, "Dad, you might as well face it. You have a son and a daughter," reported the Boston Globe.
Article continues below advertisement
Now 14, Wyatt goes by the name of Nicole and embraces her desire to be a girl and now the twins live as brother and sister. "The thought of being a boy makes me cringe," she said.
Their parents admitted that at first the transition was hard for them to accept. "I was grieving. I was losing a son," dad, Wayne Maines, an avid hunter who looked forward to taking his sons deer hunting in the Maine woods when they were born, told ABCNews.com.
Despite the initial misgivings, they bravely sat down and talked it through with their kids when they were nine, offering advice on "fear, hate, evil and freedom of speech before sending them to school.
"We also told them to keep their heads-up, be proud and take care of each other and their friends," said the caring father.
The family has been helped by the ground-breaking services at the Children's Hospital Gender Management Services Clinic, which offers advice on dealing with the emotional and medical issues facing a transgender child.
Article continues below advertisement
"I have always known I was a girl,'' said Nicole. "I think what I'm aiming for is to undergo surgery to get a physical female body that matches up to my image of myself.''
Doctors generally don't perform gender reassignment surgery before the age of 18, and no hospitals do it in New England so Nicole will have to travel to Montreal or Philadelphia.
While she is excited about it, she's also a little worried about the results, "and maybe the pain, too," she admitted.