Controversy Erupts Over New Sitcom, Will 'Harm Transgender People' Says GLAAD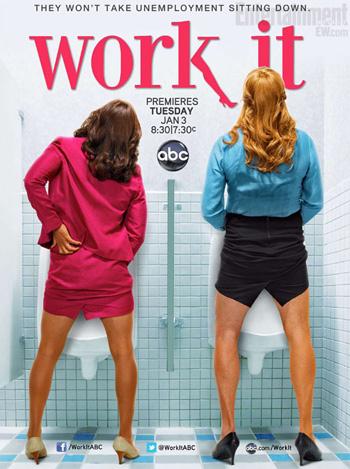 Two high profile organizations, GLAAD and Human Rights Campaign, are speaking out against a new ABC comedy before the show even hits the air.
Work It, a sitcom set to premiere Jan. 3, revolves around two unemployed car salesmen played Ben Koldyke, Amaury Nolasco, who after their dealership shuts down, dress as women so they can get jobs as salespeople at a pharmaceutical company looking to hire female sales reps.
Article continues below advertisement
The Gay and Lesbian Alliance Against Defamation and the HRC both say the comedy reflects negative transgender stereotypes.
The HRC is urging supporters to send emails asking the network to not "air a show that reinforces negative and damaging stereotypes about transgender people."
The show doesn't claim to depict transgender people, and in fact the network has called it an updated version of Bosom Buddies, but the two groups don't see the humor.
Celeb Standings On Week 4 Of Dancing With The Stars
"Transphobia is still all too prevalent in our society and this show will only contribute to it," GLAAD acting president Mike Thompson said in a statement on the organization's website.
"It will reinforce the mistaken belief that transgender women are simply 'men pretending to be women,' and that their efforts to live their lives authentically as women are a form of lying or deception."