Salma Hayek Takes A Tumble And Almost Drags Her Daughter Down With Her!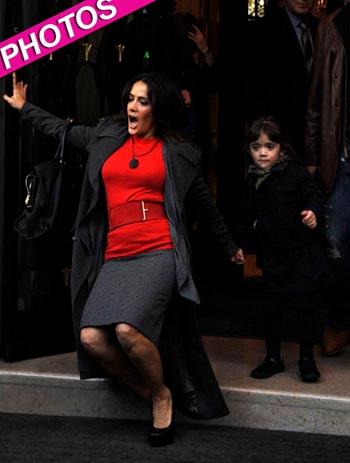 They say that a falling cat always lands on its feet, so the same must go for a Puss (even if she's in heels, not boots)!
Salma Hayek nearly fell on her face in Paris on Sunday night, leaving her luxe hotel with her daughter Valentina – and RadarOnline.com has the photos.
Wearing towering platform heels, the Puss In Boots star, who was holding onto her 4-year-old daughter's hand, lost her balance and nearly fell to the ground – looking totally mortified every misstep of the way!
Article continues below advertisement
Luckily her costar, Antonio Banderas, was there to come to the rescue! The Spanish actor gave her a hand as she got back onto her feet.
Ironically, the 45-year-old recently talked about how important it is to keep balance in your life!
Talking about combining motherhood with her career, Hayek told ModernMom: "The most important thing about the balance is that you cannot see it as equally balanced, because you have to understand that motherhood has to be your priority. It's important work.