Exclusive
Linda Evangelista In Line For $46k Per Month Child Support From Salma Hayek's Husband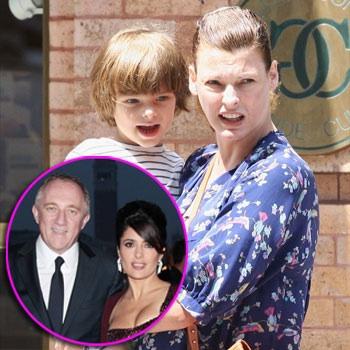 By Cliff Renfrew - RadarOnline.com Reporter
Celebrity divorce lawyer Raoul Felder believes that ex-supermodel Linda Evangelista could get her $46,000-a-month child support demands from Salma Hayek's billionaire husband Francois Henri Pinault.
New York based attorney Felder represented the mother of Mick Jagger's former girlfriend Luciana Morad in the very same Manhattan Family Court over maintenance payments for their son Lucas, 10.
Article continues below advertisement
And although he is used to working for the rich and famous Felder admits that this particular demand does seems unusually high.
Evangelista is seeking the huge payment from Yves St Laurent and Gucci chief Pinault so that she can maintain their 4-year-old son Augustin's lifestyle, claiming she needs 24 hour nannies and armed chauffeurs for the tot.
"That would probably be the largest support order in the history of the Family Court," revealed Support Magistrate Matthew Troy, who will make a final decision on the amount to be paid.
But experienced divorce attorney Felder is not that surprised at these seemingly outlandish demands.
He told RadarOnline.com: "I have had cases in family court where we asked for around the clock nannies and armed guards.
"And these demands can be relevant when you are dealing with people or a mother who doesn't live in the United States or where kidnapping of celebrity's children is a real threat.
Article continues below advertisement
"However, this will have to be established by the court. In the American legal system if the parents of the child are unmarried they are relegated to family court and Magistrate Troy is absolutely accurate that the figure may be extraordinary for child support and is indeed unusual, but the law is the law and all people are equal."
Pinault is now married to Salma Hayek and the couple has a three-year-old daughter Valentina together who Evangelista's attorney claimed was lavished with luxuries while his client has been saddled with paying for Augustine on her own.
"He's just been sitting back, paying zero," her lawyer William Beslow told the magistrate Monday.
But despite these claims Pinault, whose family is worth an estimated $11.5 billion, is fighting the expenditures tooth and nail.
His lawyer David Aaronson grilled the model during Tuesday's hearing on why she needs to spend $175,000 a year on security and $80,000 on nannies for her son.
"She testified that she wants to have a 24-hour nanny because she does not want to be alone with the child . . . Miss Evangelista, you should understand, has a worth of more than $8 million, and she earned, last year, $1.8 million." complained Aaronson.
Article continues below advertisement
And although the judge scratched-out $7,500 Evangelista was seeking for monthly vacation expenses he revealed he did have some sympathy for her security needs.
The Judge said: "These are the extraordinary expenses that may be a part of the child's life.
"And if there is a trial in the support case with a lot of publicity, there will probably be a need for two detectives to drive this kid around."