Salma Hayek's Billionaire Husband Revealed As Father Of Linda Evangelista's Son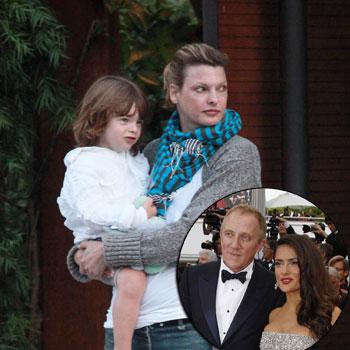 by RadarOnline.com Staff
Salma Hayek's billionaire husband Francois Henri Pinault is the father of former supermodel Linda Evangelista's son, The New York Post is reporting.
Rumors had circulated for several years that the CEO of Yves St Laurent and Gucci was the father of four-year-old Augustin James although it was never confirmed by Evangelista.
She stayed tight-lipped about the identity of the father but yesterday she went to a Manhattan magistrate's court to try and get support agreement with Pinault.
Article continues below advertisement
Pinault is also father of a four-year-old daughter, Valentina, by his current wife, Freida actress Salma Hayek. The French business mogul also has two children by his first wife.
Move Over Arnold, Other Celebs Involved In Baby Scandals! - See The Photos
A year after his birth, Evangelista claimed the father was a New York architect while her spokesperson at DNA Model Management, Didier Fernandez, called the Pinault paternity rumor "untrue" in 2007.
Yesterday was actually the model's third or fourth trip to Family Court, but no agreement was reached and the dispute could now result in a full support trial.
Evangelista, 46, refused to comment as she left the court while Pinault, 49, was not present.
His lawyer David Aronson told The Post, "We had understood that it was to be a brief, telephone conference, to bring Magistrate Troy up to date on what the status was."