Exclusive
Honeymoon Bikini Babe Rachel Uchitel Says 'A Baby Is The Plan'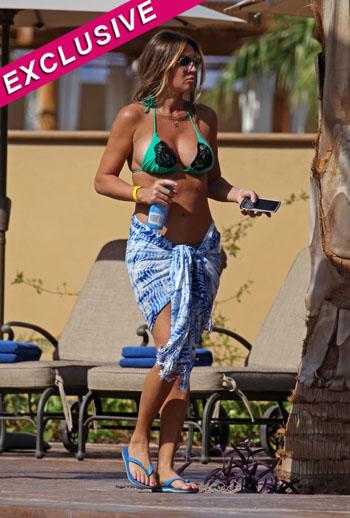 Senior Radar Reporter
Tiger who?
Honeymoon hottie Rachel Uchitel is a million miles away from the 2009 Thanksgiving that propelled her to international infamy, and RadarOnline.com has an exclusive interview with the newlywed beauty.
Rocking a green bikini as she finished up a luxurious vacation in the $1,800-a-night presidential suite at the Villa del Palmar at the Islands of Loreto with her new hubby, Matt Hahn, Rachel is happier than she's ever been, dishing on married life, baby plans and how Dr. Drew Pinsky changed her life.
Article continues below advertisement
"Marriage is great," she said about her two month union. "It is no different than it was before we were married. It feels right and that is how it should be."
While Rachel said she has traveled around the world this is the first time out of the country for her husband. "Neither of us had ever been here before so I was glad that we got to share this new destination. There wasn't any baggage for either of us."
The resort has rolled out the red carpet for Rachel and Matt, with a "bed covered in rose petals," when they arrived to dinner on a private island and Matt putting on a chef's hat and for the first time ever cooking Rachel dinner.
"The dinner was delicious, but this means he's going to have to cook at home for me now," Rachel joked.
In a serious moment, Rachel said she owes her successful relationship with Matt to Dr. Drew. "He totally changed the way I have a relationship after Celebrity Rehab, and I'm very lucky about the changes that have come for me."
Article continues below advertisement
After becoming the most infamous mistress in the world, Rachel said "I have been through a lot. But in life you have your ups and downs and you learn from them. I take all the negatives and learn from it and not sulk about it."
As for expanding their new family?
"A baby is the plan," Rachel admitted and said she doesn't care if it is a boy or a girl as long as it is healthy, but if it's a boy she said "he'll be as handsome as his dad!"