Exclusive
EXCLUSIVE: Rachel Uchitel Runs Away From Celebrity Rehab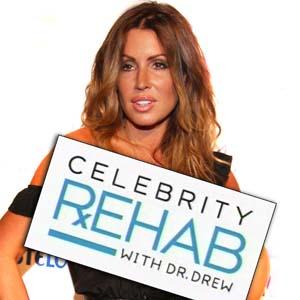 Rachel Uchitel told producers "I quit" and ran away from the set of Celebrity Rehab 4 -- ditching the show for a swanky hotel after an intense day of filming drove her over the edge, RadarOnline.com has learned exclusively.
"After a very intense day of filming, Rachel just couldn't handle being at the Pasadena Recovery Center where Celebrity Rehab is filmed, and she decided to leave," a source told us.
Article continues below advertisement
Tiger Woods' former Number 1 mistress bolted for the swanky L'Ermitage Hotel in Beverly Hills, RadarOnline.com exclusively learned.
Her escape from rehab was prompted by a very intense day with Dr. Drew, and Rachel had trouble coping with the issues that were discussed, according to the source.
As RadarOnline.com reported exclusively Rachel is being treated for a problem with alcohol and an addiction to pills.
She was discussing her issues with self-esteem and self-worth, along with her addiction to pills when she went over the edge and bolted the set for the L'Ermitage Hotel.
Rachel told Dr. Drew that and producers that she was quitting the show, and she left, the source told RadarOnline.com.
Producers of Celebrity Rehab 4 located Uchitel and went to talk to her the next morning. "Producers arrived at the hotel the following morning, and calm prevailed. Rachel simply needed some time away from the intense pressure and scrutiny that she is dealing with.
Article continues below advertisement
"She agreed to go back to Celebrity Rehab 4. Rachel has never had to face these issues before, and talking about it pushed her over the edge, and her instinct was to run.
"Producers made her realize that if she continues to run away from her issues, she will never be able to live a healthy life," a VH-1 insider tells us.
Rachel isn't legally allowed to talk about Tiger Woods, but he looms large in her life. "Her issues go beyond Tiger, but he was the catalyst that pushed her over the edge," a source tells us.
As we previously reported, VH-1 execs are so impressed with the footage that has been shot so far that a push is being made for the show to premiere sooner than the scheduled October date.