Rachel Uchitel Secretly Marries Boyfriend In Las Vegas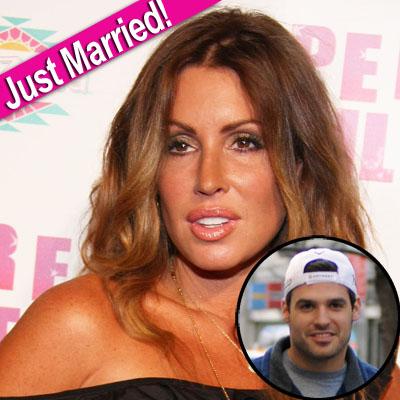 Tiger Woods' ex-girlfriend Rachel Uchitel has married her boyfriend, Matt Hahn, in a secret ceremony in Las Vegas.
The couple were wed on Sunday night and RadarOnline.com has records of the marriage license that was filed in Clark County, Nevada.
They applied for a marriage license on Sunday at 9.20 p.m., and filed a marriage affidavit -- which is granted post-wedding -- on Monday morning at 8.58 a.m.
Article continues below advertisement
Rachel has given no hint on Twitter that she tied the knot herself, but did confirm that she was in Sin City for a friends wedding last weekend.
"Beautiful wedding in vegas for amber and ceasar. Wish you guys the best always. Xoxo," she tweeted on Sunday, prompting speculation that she caught the bouquet and acted fasted!
She is now back in San Francisco, where her and Matt, an insurance broker and a former Penn State football player, have been living together for several months.
"Delayed 4 hours flying from vegas to san Francisco. Soooo boredddddddd," she tweeted on Monday.
Despite 26-year-old Matt being 10 years her junior, Rachel, 36, revealed in an interview with Page Six Magazine last month that she was in this relationship for the long haul.
"He's not a famous person. I find him to be grounded and I am totally going to totally going to marry him," she said, and went on to reveal that she even wants his children.
MORE ON:
hollywood happenings
Article continues below advertisement
"I never wanted them. Who really likes other people's kids? But I know how much I love my dogs and I think I'd make a good mother to my own kids."
Uchitel became a tabloid regular after she was revealed as the Manhattan party planner who was the first mistress reported in the Tiger Woods infidelity saga, setting off a domino effect of more than a dozen women emerging to tell stories of their trysts with the then-married golfer.