Alex Who? Pippa Middleton & Mystery Man Have The Look Of Love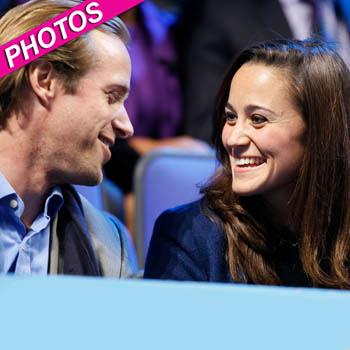 It was love all for Pippa Middleton and a mystery man on Sunday.
Proving that there's plenty more fish in the sea, newly single Pippa looked charmed by a handsome suitor as she took in tennis ace Roger Federer's win over Jo-Wilfried Tsonga in the finals of the ATP World Tour tennis tournament at the O2 Arena in London.
Despite the nail biting match, Pippa and her hunky new beau appeared to only have eyes for each other, as they gazed at each other in the stands.
Article continues below advertisement
Since her split with Alex Loudon, the British press has had a field day speculating on who "Her Royal Hotness" -- the center of attention since the royal wedding of her sister, Kate Middleton and Prince William, earlier this year -- will choose as the lucky man to be her next boyfriend.
Among the candidates: heir George Percy, whose father is the Duke of Northumberland, and dated Pippa during their student days; You're Beautiful singer James Blunt; nightclub owner Charlie Gilkes, a pal of Prince William's; and even Prince Harry, who reportedly refers to Pippa as the "Foxy Filly."