Exclusive
PHOTOS: Pippa Middleton And George Percy Are Quite The Pair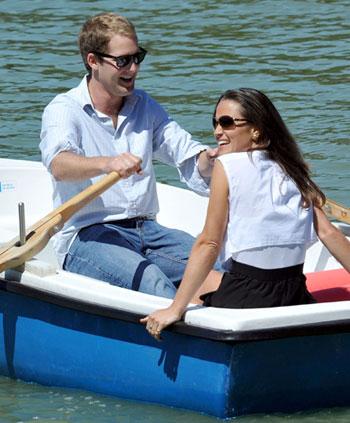 Is Pippa Middleton going to be a Duchess too?
Rumors have been swirling that Kate Middleton's younger sister is newly single, but she's been spotted recently with her ex-boyfriend and maybe current flame George Percy, whose father is the Duke of Northumberland and one of the wealthiest men in England.
RadarOnline.com has a gallery of "Her Royal Hotness" Pippa with George at all the hot spots the pair have hit up lately.
Article continues below advertisement
Pippa and George met and dated when they were students at the University of Edinburgh, and they were even roommates for a while.
Although her beau Alex Loudon was at her sister's royal wedding to Prince William, she has spent considerable time with her tall blond ex since then.
The pair was spotted in Madrid, Spain just two weeks after the April 29 wedding, when George rowed Pippa around on a small boat on Retiro Park, and the two hit the hottest nightclubs together over the weekend.
She is currently employed by George's geothermal-energy firm as a lobbyist, and still works for the family business Party Pieces.
Just a few days ago Pippa and George had dinner in London together, and after their meal they headed back to his apartment. The next morning Pippa was reportedly seen leaving his flat, and giving George a hug and a kiss goodbye.
Pippa and George watched Andy Roddick beat South Africa's Kevin Anderson in the AEGON Tennis Championship on Friday June 10; Pippa ever so stylish in a pretty white eyelet dress with a denim jacket and George looking so preppy in a blue blazer, light blue shirt and khaki pants.
As her sister Kate, the Duchess of Cambridge, prepares for her first official royal visit to Canada and the U.S. it looks like Pippa is preparing for a summer of single love!
RELATED STORIES: