Lady Gaga's Humble New York Digs Up For Rent: Take A Peek Inside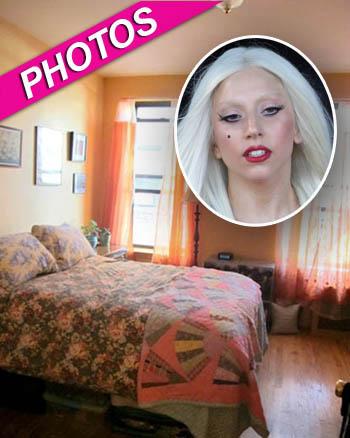 She can afford a million dollar mansion nowadays but Lady Gaga came from much humbler beginnings and now a lucky little monster can rent her former New York apartment, RadarOnline.com has learned.
Along with it's prime Lower East Side location and excellent amenities, real estate agents CitiHabits are using the Poker Face singer's name to attract potential renters to the one-bedroom apartment, which is available at a bargain price of $1,850 a month.
Article continues below advertisement
"Former abode of the infamous Lady Gaga--legitimately!" boasts the listing.
"Sporting french doors, a marble bath, and a spacious floor-plan, you're a hop-skip-n-jump from the trains and steps from the hottest nightlife in NYC."
In an interview for MTV special Lady Gaga: Inside the Outside the flamboyant pop star revealed how she struggled to pay the rent on the bachelorette pad when she first moved there in 2005.
"When I first moved down there, I just didn't have a lot of money to pay rent," said Gaga.
"I think it was $1,100 a month. It was a lot of effing money to make. I go-go danced. I got a job as a waitress and my dad paid half my rent for three months in a row until I got on my feet. He said, 'You have a year to make something happen or I'm gonna make you go back to school.'
"I wanted to live alone, in solitude, with my music. To read poetry and be overly dramatic about everything. That's what I did."