Kris Humphries Is Not Wearing His Wedding Ring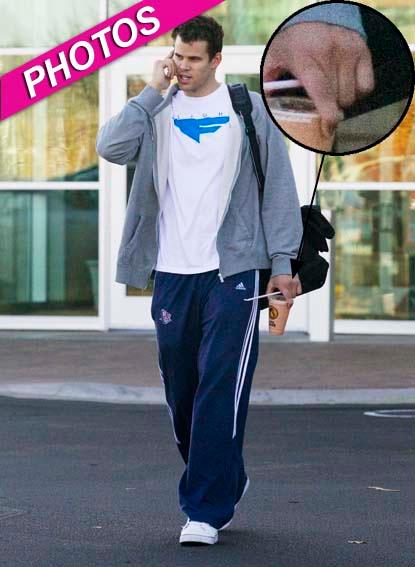 Senior RadarOnline.com Reporter
Kris Humprhies must be getting the message that his marriage is over -- he's no longer wearing his wedding ring!
The soon-to-be-ex-husband of reality star Kim Kardashian is hanging out in his home state of Minnesota this week, and he's been doing what guys do -- hitting the gym, and now RadarOnline.com has the picture proof of his missing wedding band.
Kris, 26, was photographed Thursday at the gym without his wedding band; he was spotted at the same gym on Monday, the day Kim filed for divorce, but on that day, he was still wearing his ring.
Article continues below advertisement
Since his wife Kim, 31, filed for divorce on October 31 after just 72 days of marriage the backlash against her decision has caused her so much grief that she cut short an Australian promotional trip to come home to the States.
Kris has insisted that not only was he blindsided by the divorce but is "devastated" and hoping the marriage can actually continue.
While Kim is insisting that she was unhappy with the marriage from the start, sources have told RadarOnline.com that she is still in communication with Kris, talking on the phone and texting frequently.