Exclusive
AUDIO: Rob Kardashian Has Doubts Kim Will Really Get Married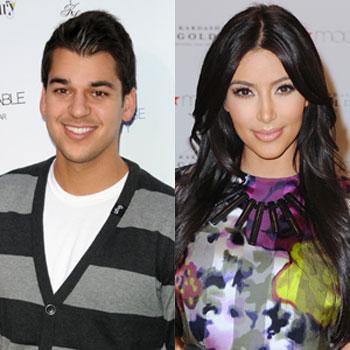 Bride-to-be Kim Kardashian has been rocking her gigantic 20.5-carat engagement ring from Kris Humphries this week but her little brother Rob isn't sure if she'll ever actually make it down the aisle with the NBA star.
Reality star Rob opened up about the big wedding announcement to radio hosts Kidd Kraddick and Hyla on the Hollywood 5 on Friday and RadarOnline.com has audio of their interview.
Article continues below advertisement
AUDIO: Rob Kardashian Doubts His Sister Kim Will Make It Down The Aisle
When asked if he believed the engagement would go through and if he thought love birds Kim and Kris would get married, Rob replied cautiously: "I just don't feel confident because Kim has always been so like, you know, she's, how old?"
"She's just been through a lot of relationships and she always gets hurt or never finds the right dude, but Kris is a really good dude," he went on to say. "They've had their own personal, private relationship a long time now and I feel like they are a really good match for each other."
Earlier in the interview 24-year-old Rob, who appears on Keeping Up With the Kardashians and Khloe & Lamar with his famous siblings, revealed that the family thought Kim was joking when she made her big engagement announcement earlier this week.
"We were having a family dinner and we didn't know what it was for, we just thought everyone was in town, we were at my mom's," he explained. "She had a ring on and we didn't know what it was for, and we didn't believe her and we thought it was a joke, no one really, like, did anything, and it was like, oh wait, then it got crazy and there were ponies, it was really bizarre!
MORE ON:
Keeping Up With the Kardashians
Article continues below advertisement
"Congrats to her, it was pretty shocking in my mind."
Despite being taken by surprise with his big sister's announcement, Rob said he's excited to welcome her New Jersey Nets star fiancé to his family.
"I spent like a family vacation with him and he's a cool dude from Minnesota and like normal, and I'm about being normal and chill," explained Rob.