Kourtney & Khloe Kardashian Tweet Congratulations For Kim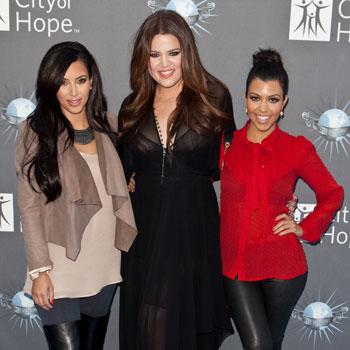 Kim Kardashian's sisters are as excited as she is about her engagement and Khloe and Kourtney have been sharing their joy on Twitter!
The Kardashian siblings have been tweeting like crazy since the big news was announced on Wednesday morning.
Kourtney tweeted: "My sister is engaged!!! I'm squealing with excitement! The princess has found her prince. I am so happy because @KimKardashian is happy!" and followed it up with: "YES everyone! It is true! @KimKardashian is engaged! CELEBRATE!"
Article continues below advertisement
Khloe was equally happy, and revealed how hard it was to keep the big news quiet. "I can't believe I was able to keep this a secret but now I can scream all I want about it! Kim is engaged!!!!!!!!!!!!!!!!!!!! OMG!!!!!!!!!!," she tweeted.
"Kimmie I love you so much!!!! I would do anything in the world for you!!! Seeing you this happy in your life makes me smile daily!"
Khloe has even made a new nickname for her brother-in-law to-be, dubbing him 4Hump. "Only thing that's going 2b hard is having 2 Kris' in the fam! Mama Kris won't like some1 else having her name! LOL we need a nickname 4Hump."
The reality star married her own NBA hunk, Lakers player Lamar Odom, in September 2009 after he gave her a 9 carat diamond engagement ring. "OMG I die for you! Kims ring gave birth to my ring! LOL but my ring is perfection! Its from my Lammy," Khloe tweeted in reference to her own engagement ring, which pales in comparison to Kim's 20.5-carat Lorraine Schwartz diamond sparkler.
RELATED STORIES: