Kim Kardashian Wears All Black As She Leaves Australia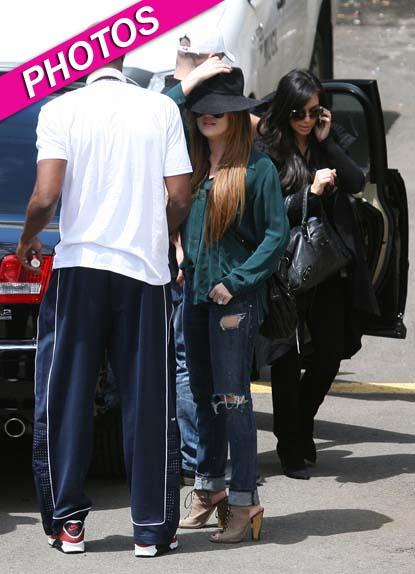 Kim Kardashian, Khloe Kardashian and Lamar Odom were snapped entering Sydney Airport via a loading dock Friday, and RadarOnline.com has all the pictures for you.
Kim -- who shocked the world in filing for divorce from her husband of 72 days, NBA forward Kris Humphries, on Monday -- was presumably still sullen from the split, as she wore an all-black outfit, from her boots to her jacket to her purse. She seemed preoccupied with a phone call as she readied to enter the airport.
Article continues below advertisement
Khloe played it more casual with a dark turquoise top and jeans while Lamar, whose Lakers would have played the Suns Friday if not for the lockout, wore a polo shirt and basketball warm-ups.
Kim abruptly changed her weekend plans Thursday, canceling the rest of her stay down under to return to the U.S. immediately.
The early departure hits the beauty, 31, in her pocketbook, as she was slated to collect a $150,000 payday for an appearance for Swisse vitamins at the Melbourne Cup Carnival Saturday.
"I am very disappointed that I am unable to attend the Swisse marquee," Kardashian told Australian paper The Herald Sun, "but I hope to come back and work with the Swisse team at another point in time. I love our fan base out here. Of course, I do really want some time to myself and it has been tough. But I didn't wanna bail on everyone and, you know, skip out on this commitment."
Immediately after filing for divorce, the starlet Monday night left LAX through a media circus to fulfill the obligations she'd commit to before the shocking news of her pending divorce broke.
Article continues below advertisement