Kim Kardashian Continues Marriage Counseling; But Sorry Kris, It's Just For The Cameras!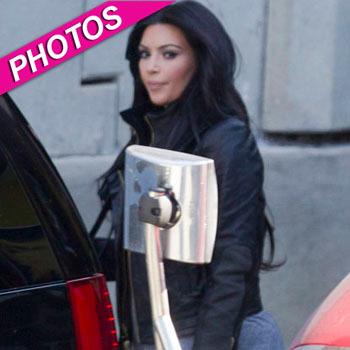 Just to clarify, Kim Kardashian isn't really seeing a marriage counselor again – it's just for the cameras!
The newly single star returned to the Atlanta set of Tyler Perry's The Marriage Counselor on Friday, looking more somber than usual – and RadarOnline.com has the photos.
The reality show bombshell, who usually has a wide smile slapped across her face for the cameras, donned a black leather jacket as she walked around with her script in hand.
Article continues below advertisement
After spending the weekend in Minnesota with her estranged husband, Kris Humphries, getting some real counseling with the Pastor that married the couple, Kim jetted over to Atlanta earlier this week to film her part in Perry's movie.
As RadarOnline.com previously reported, Perry's decision to cast the reality vixen -- who shocked the world when she filed for divorce from Humphries, her husband of 72 days, last week -- has irked a number of his fans, who took to the message board of his website to vent.
Said one poster: "I believe it is against your better judgment to have Kim Kardashian star as a supporting actress in your upcoming movie. You still have a moral responsibility to your supporters to maintain a level of integrity when it comes to casting your movies. I have to boycott this film if Kim Kardashian is part of this project."
Another wrote, "Well Tyler, since you are going ahead and keeping Kim Kardashian in your new movie in spite of how your fans feel tells it all. You're beginning to sound arrogant. I felt so proud of how hard you work and how connected you are to your fan base. I don't see it as your fans telling you what to do and feel like we can because of our undying support, but dang TP, Kardashian does not fit."
Article continues below advertisement