Dr. Phil Reveals Results Of Rebecca Zahau's Second Autopsy, 'I Am Leaning Towards Homicide,' Says Pathologist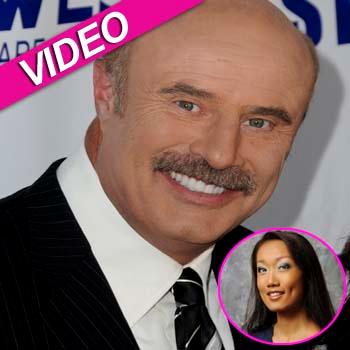 A top pathologist has slammed the ruling of suicide in the death of Rebecca Zahau, and stated that he is leaning strongly towards the cause of death being homicide.
Dr. Phil McGraw pledged to help get to the bottom of Zahau's mysterious death at her billionaire boyfriend's San Diego mansion by exhuming her body and performing a second autopsy — he aired the results of the examination on Tuesday, and RadarOnline.com has footage of the latest developments.
Article continues below advertisement
As RadarOnline.com previously reported, Rebecca's tragic death was ruled a suicide after her naked body was found hanged with her hands and feet bound at Jonah Shacknai's historic mansion on July 13.
The death occurred just days after Jonah's six-year-old son Max had an accident in the home, while under Rebecca's care, that turned out to be fatal.
RadarOnline.com was the first to report that Dr. Phil had Rebecca's body exhumed from her grave in Missouri and retested for any evidence of foul play. Forensic pathologist Dr. Cyril Wecht conducted the autopsy in Philadelphia several weeks ago and his findings were revealed to her sister, Mary Zahau and attorney Anne Bremner on Tuesday's episode of the Dr. Phil Show.
Author of From Crime Scene To Courtroom and a veteran who has performed more than 17,000 autopsies, Dr. Wecht revealed that he does about a dozen second autopsies each year and he thought it was appropriate in this case to look at the body for a second time.
While he thinks the initial autopsy itself was thorough, the pathologist was amazed that investigators jumped to the conclusion that Rebecca committed suicide so quickly and thinks key evidence was overlooked, most notably the hemorrhages on the top of Rebecca's head.
Article continues below advertisement
"It cries out for an explanation. I would like to hear how there are four separate impacts on the top of the head from a vertical hanging.
"Those kinds of impacts could lead to a concussion and temporary unconsciousness," he explained, adding. "If the body had plummeted down the cervical vertebrae would have been broken from the base of the skull."
Along with the physical injuries, Dr. Wecht marvels at the bizarre manner in which the 32-year-old's body was found. "How does someone go about binding their hands in a slip knot, binding their calves, putting a rope around their neck and then putting a shirt over the rope, binding it three times and then stuffing it in their mouth?" he asked.
"Harry Houdini did it 70 years ago. I've yet to hear where she acquired this skill."
Dr. Wecht also thinks it highly unlikely that Rebecca would have stripped off before killing herself. "In all of my autopsies I can't remember a case where a woman committed suicide nude and in an outdoor environment."
The forensic expert believes the ruling was made too quickly and the case needs to be reopened.
"The phrase rush to judgement springs to mind, what was the hurry? Why was there no need felt for further investigation?" he asked.
Article continues below advertisement
"There can be no doubt that it demanded further investigation - I lean very strongly for it being a homicide, something involving foul play, and lean strongly against it being a suicide," he revealed.
As there were no major defensive wounds on the body or drugs in her system, Zahau may have been hit over the head and knocked unconsciousness with a smooth object, explained Dr. Wecht, and then manipulated into the suicide scenario.
"That could well explain how you have Miss Zahau dead in this situation with no evidence of a physical struggle."
In his conclusion, the experienced pathologist told Dr. Phil that he thinks the investigation should be reopened, "My first suggestion is to change the manner of death to 'undetermined.'
"Then the case is left open and you continue to work it," he explained, responding definitively "Yes," when asked if he is leaning strongly toward homicide.
Article continues below advertisement
Zahau's sister and attorney appeared relieved at the findings and eager to advance the investigation.
"We want this case to be reopened and re-examined by an independent agency," said Mary, who fears the San Diego investigators are too set in their thinking. "We have lost trust in them."
The Sheriff's Department released a statement Monday saying in part, "If Dr. Wecht or Miss Bremner would like to share information they believe is pertinent with our investigators, we would be glad to meet with them, rather than hear their results on television provided as entertainment."
It's unlikely that any new developments could be admissible in any potential criminal case though because the autopsy wasn't done in conjunction with any law enforcement agency.
Watch a clip from Dr. Wecht's appearance on the Dr. Phil Show below:
radar_embed service=5min.com src=" http://pshared.5min.com/Scripts/PlayerSeed.js?sid=1126&width=486&height=412&playList=517713322&sequential=1&shuffle=0"
RELATED STORIES: