Bikini Slim-Down! The Biggest Losers In Hollywood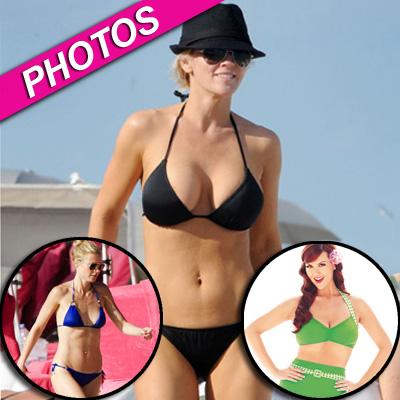 RadarOnline.com Style & Beauty Editor
These smokin' hot Hollywood stars haven't always looked so sexy stripped down!
Mariah Carey is the latest celebrity to reveal her diet secrets, but not the only one. RadarOnline.com has photos of Hollywood's hottest diet divas, who have dropped weight and transformed their bodies in dramatic fashion.
When it comes to endorsing a diet, celebrities don't mind cashing in to lose weight. Like Mariah, Sara Rue dropped the LBs with the help of Jenny Craig. Her success on the diet enabled her to model a bikini for the first time, and boy, did she look hot!
Article continues below advertisement
Kim Kardashian has sworn that Quick Trim is her go-to weight loss aid, although thankfully the reality star didn't shave off her famous curves.
SHAPE PHOTOS: Celebrity Before And After! Did These Stars Get Too Thin?
Jessica Simpson has admitted to trying several diets over the years, but the beautiful blonde recently revealed that she is happier with her swerving curves than she is when she is starving and sweating nonstop.
And sometimes losing weight can be as simple as cutting out Sex on the Beach! SoCal siren Kate Hudson once admitted that she dropped 20 pounds simply by swearing off the booze.
How have other bikini babes slimmed down over the years? Find out by clicking here.