Jessica Simpson Says Weight Gain Was Good For Business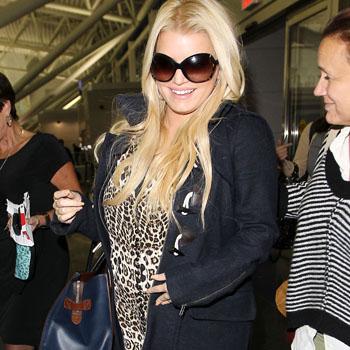 Don't expect Jessica Simpson to complain about her baby weight!
The mom-to-be recently opened up to Lucky magazine about her pre-preggers body transformation, where she went from being one of the skinniest stars in Hollywood to sporting womanly curves – and how it ended up making her more financially successful!
After showing off her fat-free figure in tiny cutoffs playing Daisy Duke in The Dukes of Hazzard, the actress started gaining weight and was slammed by the public – but instead of starving herself, the actress decided to be herself.
Article continues below advertisement
"Everybody fluctuates, but I'm open about my weight and I'm still confident," Jessica says. "I didn't cry about it too much."
While most famous females fear that weight gain will ruin their career, Simpson noticed that the opposite happened to her.
"I got so much scrutiny for putting on extra pounds, but I think that the decision not to make myself anorexic was actually great for branding," she says of the success of her Jessica Simpson Collection clothing line, which reportedly is set to bring in a billion dollars by the end of 2012. "Because
when you're really, really skinny, not everybody can relate to you."
As for wedding plans, Jessica reveals that she and fiancé Eric Johnson are in no rush to walk down the aisle.
"I haven't started shopping for our wedding yet," Jessica reveals. "When I got engaged, everyone thought I would get married immediately, but I have not put a single dress on, and by the time this comes out I will not be married! We're just enjoying being engaged right now -- and that's honest."
Article continues below advertisement