Exclusive
Jessica Simpson Is NOT Pregnant!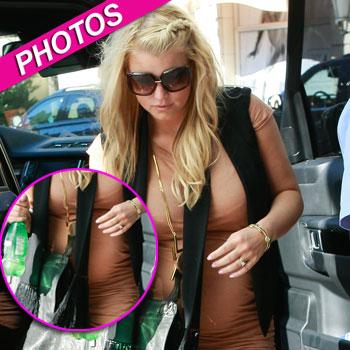 - Radar Senior Reporter
All the grief Jessica Simpson gets for her weight may have just gone too far, because the starlet has been forced to announce that she is NOT pregnant after unflattering pictures were snapped showing her with what looked like a baby bump.
The pictures of Jessica show her in a form fitting bronze colored dress with a very curvy figure, a far cry from the killer body she sported while filming the movie The Dukes of Hazzard.
Article continues below advertisement
"This photo agency is full of malarkey," Jessica's publicist told HollywoodLife.com. "She is not pregnant."
Jess was snapped in the dress on Friday, the same day her ex-husband Nick Lachey tied the knot with Vanessa Minillo on the exclusive Nekker Island.
31-year-old Jessica is engaged to former NFL star Eric Johnson and they are in the wedding planning stages — but, apparently not the baby shower planning stages.