Jessica Simpson's Fiancé Photographed Taking 'Funny' Cigarette From Friend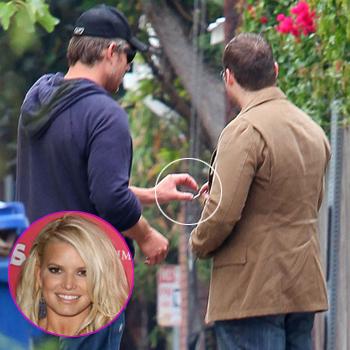 by RadarOnline.com Staff
Jessica Simpson's groom-to-be was photographed in a Los Angeles alley Saturday, taking what can best be described as a skinny, hand-rolled cigarette from a pal.
Eric Johnson, a former pro football player, walked into the alley in an upscale residential neighborhood, before taking the single cig from his buddy.
If by some chance the cig in question is a marijuana joint -- and we're not saying it is -- possession of less than one ounce is a misdemeanor under California law, with a fine of usually about $100.
Article continues below advertisement
Jessica's fabulously successful fashion empire was estimated to have taken in between $750 million and $1 billion in 2010. Her personal take, estimated Forbes, was close to $100 million.
She and Eric became engaged last November. They've not yet announced a wedding date.
RELATED STORIES: