PHOTOS: Bikini Wars! Sexy Sister Vs. Sexy Sister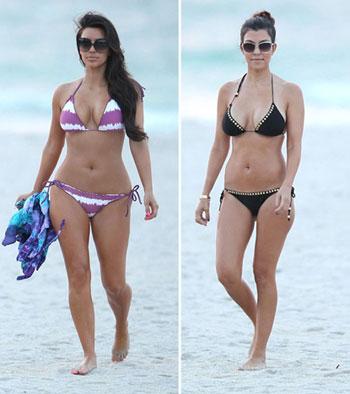 Sibling rivalry is bad enough for normal people, but these sexy and famous celebs don't just primp in the same bathroom, they have to share the spotlight.
The curvy Kardashian's, the scandalous Spears, and the sweet Simpsons are just a few of the sexy sister acts in Hollywood, who are constantly compared to each other when it comes to their careers, their looks, their personal lives and now, in RadarOnline.com's weekly Bikini Wars feature, their ability to rock a bikini!
Article continues below advertisement
Kim Kardashian flaunts some of the most famous curves on the boob tube with her dangerous derriere and naturally large assets, but her older sis Kourtney also makes a splash every time she hits the beach.
The 31-year-old hot mamma may not have Kim's larger than life curves, but with a little boost from the plastic surgeon, the busty brunette looks steamy in her swimsuit!
Jessica and Ashlee Simpson both tuned their singing voices at their Baptist church, and though Jess got a jumpstart on the famous life, little sis Ash quickly caught up. Which of the Texan beauties is toned to perfection when it comes time to strip down into their skimpy swimsuit?
Paris and Nicky Hilton are equal heirs to their family's hotel fortune, but unfortunately only one of the blonde babes can be queen of the beach!
And what about singing sensations Beyonce Knowles and her little sister Solange? Both beauties sing sweet songs and rock the red carpet in the hottest designer duds, but who looks the fittest and fabbest when it comes time to really show off their figure?
From the hottest duo in the 90210 zipcode to Kentwood, Louisiana's most famous family, find out which sister comes out on top in RadarOnline.com's Bikini Wars!