Glowing Jessica Simpson Is A Manhattan Mama-To-Be!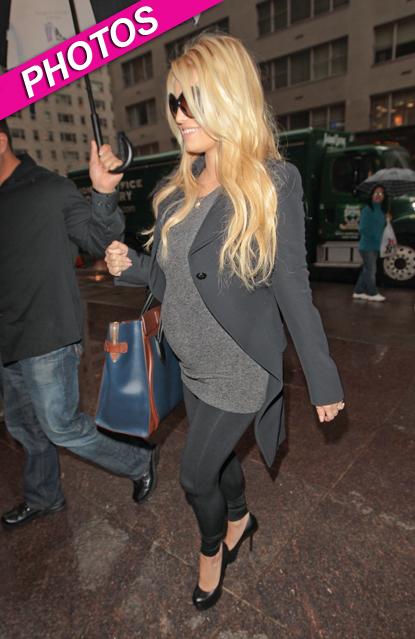 Jessica Simpson -- and her ever growing baby bump -- were spotted out in New York early Thursday, as the beauty was hustling to a Manhattan meeting.
Simpson wore a black jacket, grey shirt and black leggings on the rainy October morning, as one of her handlers held an umbrella to shield her from the chilly sprinkles.
The Dukes Of Hazzard beauty, 31, is expecting her first child with her fiancé, former NFL tight end Eric Johnson.
Article continues below advertisement
While she's staying mum on whether she is expecting or not, an OBGYN exclusively revealed to RadarOnline.com that in their opinion Jessica is around six months pregnant, meaning her and Eric could be welcoming their first child in early 2012.
"She looks to be 26 weeks, which is around six months," Boston-based OBGYN Dr. Dave David told RadarOnline.com.
"It is definitely a pregnancy and not weight gain," confirmed Dr. David, who has not treated the star. "You can by the shape of her abdomen, her belly wouldn't be that rounded if it was just fat."
As RadarOnline.com previously reported, Simpson was hoping to secure a large payday from a magazine before going public with the news, but it seems there's been no takers.
A top PR expert told RadarOnline.com that Jess just does not have the 'star power' to secure the $500,000 payday that she was looking for.
"The issue with Jessica Simpson maybe is that she simply hasn't been 'hot' lately in terms of relevant, big celebrity occurrences," President and CEO of 5WPR, Ronn Torossian, told RadarOnline.com in an exclusive interview.