Jessica Simpson Is 'Six Months Pregnant,' Says Expert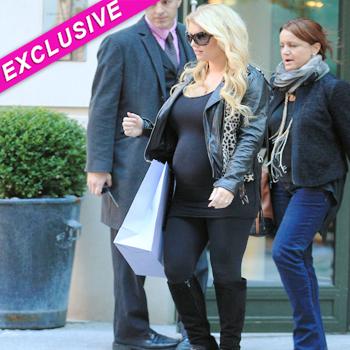 Jessica Simpson didn't manage to beat her ex-boyfriend Tony Romo and his new wife Candice Crawford down the aisle, but she may beat them to the delivery room!
While she's staying mum on whether she is expecting or not, an OBGYN exclusively revealed to RadarOnline.com that in their opinion Jessica is around six months pregnant, meaning her and fiancé Eric Johnson could be welcoming their first child in early 2012.
Article continues below advertisement
"She looks to be 26 weeks, which is around six months," Boston-based OBGYN Dr. Dave David told RadarOnline.com.
"It is definitely a pregnancy and not weight gain," confirmed Dr. David, who has not treated the star. "You can by the shape of her abdomen, her belly wouldn't be that rounded if it was just fat."
As RadarOnline.com previously reported, the 5'3" singer proudly showed off her growing baby bump Tuesday in New York wearing a skin-tight shirt that left no doubts about her pregnancy.
"She is short so the bump looks bigger because it has no where to go but out," explained Dr. David.
Fans are eager for Simpson to fess-up to the good news, and the OBGYN said it is common for couples to wait a few months to announce they are expecting, although not usually this long.
"Couples often wait for a few months before they announce it in case anything goes wrong," he explained. "Once they see the heart-beat on the ultrasound after the first trimester then they usually let people know."
Article continues below advertisement
Simpson was hoping to secure a large payday from a magazine before going public with the news, but it seems there's been no takers, as RadarOnline.com previously reported.
A top PR expert told RadarOnline.com that Jess just does not have the 'star power' to secure the $500,000 payday that she was looking for.
Meanwhile, Tony Romo announced on Tuesday that he and wife Candice are expecting their first baby.