Jessica Simpson Shows Off Her Huge Baby Bump In Skintight Shirt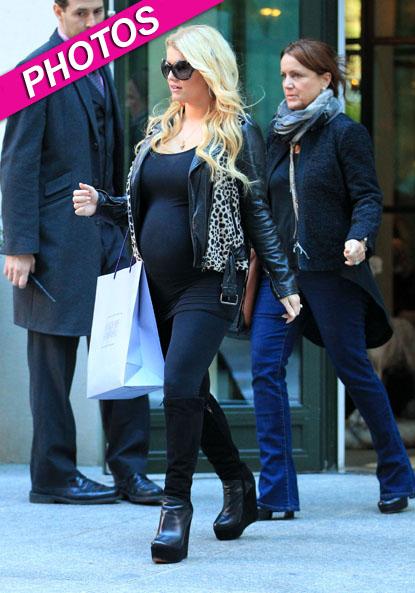 Did Jessica Simpson eat a really, really big cheeseburger, or is she carrying a bun in the oven? The answer seems pretty obvious!
Simpson, who has yet to announce that she is pregnant with her first child with fiancé Eric Johnson, did very little to dispel the baby chatter on Tuesday, hitting the streets of NYC in a skintight spandex top – and RadarOnline.com has the photos.
Article continues below advertisement
The singer and businesswoman couldn't have looked any more pregnant as she strolled around the city in black leggings, a tight top, a sleek leather and leopard jacket and wedge boots, making a stop at super luxe department store Bergdorf Goodman.
And from the looks of her popping belly, the singer is WELL over three months.
After months of wearing super baggy and belly-covering clothes, Jessica recently began flaunting her bump in bodycon maternity wear.
As RadarOnline.com previously reported, Simpson was hoping to secure a large payday from a magazine before going public with the news, but it seems there's been no takers.
A top PR expert told RadarOnline.com that Jess just does not have the 'star power' to secure the $500,000 payday that she was looking for.
"The issue with Jessica Simpson maybe is that she simply hasn't been 'hot' lately in terms of relevant, big celebrity occurrences," President and CEO of 5WPR, Ronn Torossian, told RadarOnline.com in an exclusive interview.