Exclusive
Anthony Weiner Mistress Shopping 'Juicy' Tell-All Book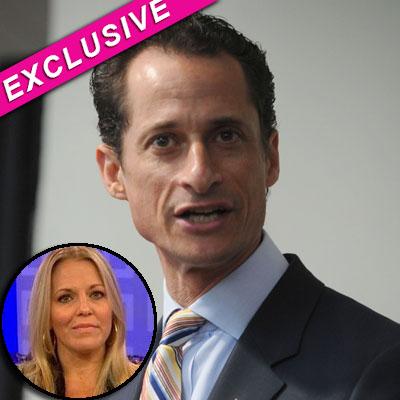 When Anthony Weiner was caught with his pants down over the summer, a woman named Traci Nobles came forward as one of his mistresses, and now RadarOnline.com has exclusively learned she's shopping a tell-all book of her online tryst with the former Congressman.
"Traci has been shopping her book around to various publishers," a source close to the situation told RadarOnline.com.
Article continues below advertisement
"As far as I know, she doesn't have any bites yet...but she's confident she'll get a book deal, and it'll be a juicy best seller."
The book proposal, as seen by RadarOnline.com, has 143 pages and 23 chapters in entirety featuring screen shots of her instant messaging conversations with Weiner and mention of a few other notable celebrities.
According to the proposal, Weiner and Nobles friended each other on Facebook and their conversations quickly turned sexual so the two moved to Yahoo! Messenger as a means to chat.
The instant messenger screen shots in the book show Weiner's profile picture to be a toddler, which Nobles claims he told her was his niece, and an easy way to divert his staff members from finding him online.
Throughout the book there's many references to Nobles making the trip from her native Georgia to visit Weiner in Washington or New York -- but it's unclear whether it ever came to fruition -- and many of the conversations between Weiner and Nobles are far too sexually graphic for RadarOnline.com to detail.
Article continues below advertisement
"So i will make sure to keep some time open so we can have cyber session via skype. Does that make my hot sexy baby happy?"
Weiner, 47, is expecting his first child with his wife, Hillary Clinton aide Huma Abedin. And the book proposal spares no one -- claiming Weiner expressed unhappiness and a distant relationship with his in-laws, noting religion and politics as the main reasons.
The book proposal finishes by detailing the events that came after the now infamous photo of Weiner's bulging crotch in gray brief underwear was posted on Twitter and when he finally admitted to having multiple inappropriate relationships with "at least six women."
Article continues below advertisement