Exclusive
Fully Exposed! Shocking Weiner Photo Revealed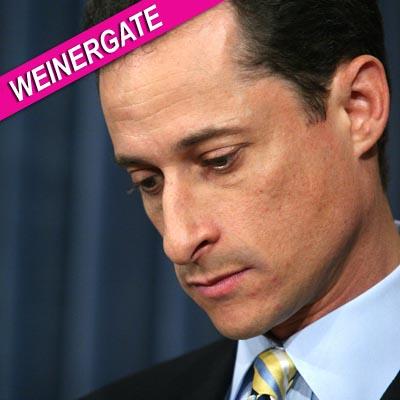 RadarOnline.com Staff Reporter
Weiner Exposed!
There have been shirtless photos, photos of his bulge in boxers, and now there might be the full monty of Anthony Weiner's private parts.
On the Opie and Anthony Sirius radio show Wednesday conservative blogger Andrew Breitbart revealed what he claims is a picture of Weiner's penis.
Breitbart had previously said that he wouldn't release the photo, but he showed hosts Anthony Cumia and Gregg "Opie" Hughes the picture on his cell phone and they snapped a picture of the exposed male body part and promptly Tweeted it.
Article continues below advertisement
RadarOnline.com is not publishing the picture, but you can see the not-safe-for-work photo here.
The humiliation continues for the embattled congressman from New York, who wept as he admitted he has had "inappropriate" relationships with at least six women, including Lisa Weiss, who had explicit sexual Facebook conversations with Weiner, as exclusively reported by RadarOnline.com and Star magazine.
Weiner spent Tuesday in his district office in New York while the salacious details of his scandal grow, exposing his sexual flirtations with women across the country. He has said that he will not resign from his Congressional seat despite lying to multiple people about the true nature of his escapades.