Exclusive
VIDEO: Former Rep. Weiner Heckled During Press Conference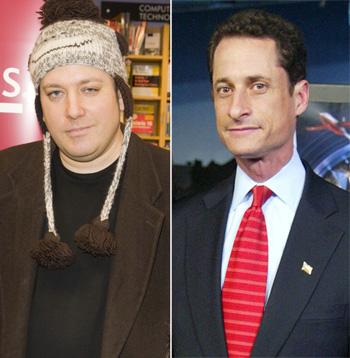 RadarOnline.com Staff Reporter
Former Rep. Anthony Weiner resigned on Thursday during a press conference in New York and while Weiner didn't answer any questions from the public, there was one heckler who was adamant on making him sweat.
Benjy Bronk from The Howard Stern Show threw out a slew of vulgar questions and statements to the former New York lawmaker as he tried to deliver his resignation speech.
Article continues below advertisement
"Are you more than 7 inches?" Bronk yelled out.
"Will you maintain your hot physique?"
As Weiner exited the podium after apologizing for "the personal mistakes I have made and for the embarrassment I have caused," the heckler had one final parting message for Weiner:
In a joint investigation, RadarOnline.com and Star magazine first revealed that Weiner's first steamy Facebook exchange with one of the women -- 40-year-old Las Vegas blackjack dealer Lisa Weiss — came just TWO MONTHS after he married Huma Abedin in Long Island during a lavish ceremony officiated by former President Bill Clinton.