New York Congressman Anthony Weiner Will Resign Amid Sexting Scandal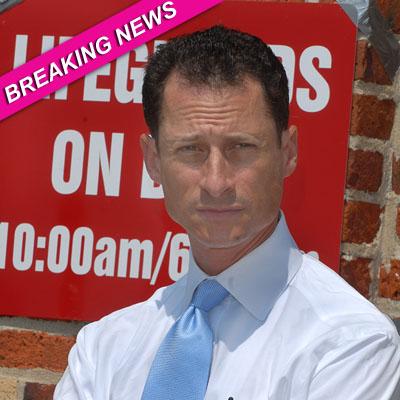 Disgraced New York Rep. Anthony Weiner is expected to formally resign Thursday amid his sexting scandal that has turned him into a national punchline.
Weiner is expected to address reporters at a senior citizens center in Brooklyn at 2pm ET., and RadarOnline.com will live stream the announcement. In what can only be described as a 'full circle moment,' the senior citizens center is the same place where he announced he would run for New York's City Council back in 1992.
Article continues below advertisement
Click Here To Watch A Live Stream Of Weiner's News Conference
Weiner -- a seven-term Democratic member of Congress who initially had refused to step down -- has shared his decision with close pals, but as of early Thursday, had yet to send a formal letter to New York Governor Andrew Cuomo or House Speaker John Boehner, R-Ohio, indicating his intentions, according to reports.
A Democratic source told ABC News that Weiner called House Minority Leader Nancy Pelosi and Rep. Steve Israel, chairman of the Democratic Congressional Campaign Committee, Wednesday night at a picnic.
Israel reportedly pulled Pelosi aside and both spoke with the embattled Congressman on the phone, which is when he shared his decision, said a Democratic aide who spoke on condition of anonymity to ABC News.
Weiner, 46, reportedly made the decision after a chat with his pregnant politico wife, Huma Abedin, who just returned from a diplomatic mission in Africa with her boss, Secretary of State Hillary Clinton. (Abedin serves as her Deputy Chief of Staff).
Article continues below advertisement
The New York Times reports that Democratic leaders Thursday were priming to meet and "discuss whether to strip the Congressman of his committee assignments, a blow which would severely damage his effectiveness.
In recent weeks, numerous politicians from both sides of the aisle, including Rep. Pelosi, had publicly urged Weiner to step down to avoid further humiliation and bad press. Even President Obama suggested he too believed Weiner should resign.