Exclusive
Transgender Seven-Year-Old Driven To Tears By Girl Scout Leader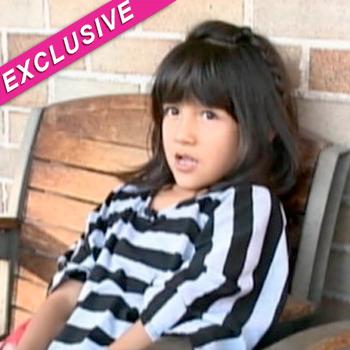 All seven year old Bobby Montoya wanted to do was join the Girl Scouts to sell cookies door-to-door, cook S'mores over an open fire, and earn merit badges, but a local leader rejected the child's application and even made her cry, RadarOnline.com has learned.
The basis of the heartbreaking rejection was that although Bobby lives as a girl, she was born a boy and has "boy parts," which the troop leader in Denver, Colorado wouldn't allow.
Article continues below advertisement
"She made him cry, tears were coming out of his eyes. My daughter didn't know what to do," Bobby's grandfather, Bonnie Archuleta told RadarOnline.com in an exclusive interview. "It's the Girl Scouts, what is the big deal? They are kids, they are babies."
Bobby was born with male genitalia but has been convinced since the age of two that she is a girl.
"I believe he was born in the wrong body," said his mother, Felisha Archuleta, who admitted that even she has difficulty switching from male to female pronouns when talking about her child, reported ABCNews.com.
"I thought Bobby would grow out of it," she said. "For birthdays, he asked for ponies. He had a princess birthday, and last year when he turned seven, he had a Rapunzel birthday. I have just basically supported him."
Just like any normal little girl at seven, Bobby wanted to become a Girl Scout so three weeks ago Felisha asked the local troop leader, only named as 'Mary,' if she could sign up.
"She told us he can't join because he has 'boy parts.'... But no one would know he's a boy unless they pulled his pants down."
Article continues below advertisement
Archuleta said the troop leader also asked her, "What do you call it, a boy or a girl?" referring to Bobby. "I told her, 'Excuse me?' Then she fixed it and said, 'Bobby. You can see that's a boy's name, and everyone will know he's a boy.'"
The Girls Scouts of Colorado have since released a statement saying they welcome all girls.
"Girl Scouts is an inclusive organization and we accept all girls in Kindergarten through 12th grade as members," the statement ascertained. "If a child identifies as a girl and the child's family presents her as a girl, Girl Scouts of Colorado welcomes her as a Girl Scout.
Even though she is now officially allowed to join, Bobby's grandfather said she doesn't know if she still wants to after being treated so cruelly.
"It's already over with, you can't go back after the lady did that to him. He's going to go back to crying. What right does she have to talk to the baby like that, he's just a young boy," revealed Mr. Archuleta.
"He was all hyped about being in the scouts and was all happy about it and then that lady got involved. I don't know if he wants to join them anymore after she treated him that way, what would she do to him if he joined?"
Article continues below advertisement
Despite telling his mom he believed he was a girl from a very young age, until recently Bobby had worn boys clothes to school in fear of being teased, but since the incident she's swapped her pants for dresses in public more often, reported ABCNews.com.
"He dresses like a girl when he gets home, he doesn't dress like that when he goes to school," explained the grandfather, who said he supports everything his daughter does when it comes to raising Bobby and her siblings, Chucky, 11, and Alissa, 13.
"I back her up 100 per cent, she does it how she wants," he said, adding that Bobby is just like any other seven-year-old.
"He's a happy kid. He's got a strong support system from his family, he's got a mom, a dad and a grandfather," Mr. Archuleta.
Mara Keisling, executive director for the National Center of Transgender Equality told RadarOnline.com that she is glad that the Girl Scouts officially support transgender children and have tried to make up for the initial mistake of the group leader.
Article continues below advertisement
"It's a little kid who wants to do little kid things. A little girl should be allowed into the Girl Scouts. There's no harm to it, maybe a bunch of adults get all worked up about it but kids don't care," Keisling told RadarOnline.com in an exclusive interview.
"A kid joining the Girl Scouts is not irreversible, teaching children to be intolerant can be irreversible," she explained. "All Bobby wants to do is play with other little girls. It's just really horrible that it could turn into a societal crisis. There is not a risk to anybody."
Keisling went on to explain that although being a scout is meant to about fun, wholesome activities, being rejected this way could affect Bobby on a deep level.
"Gender identity is about our identity and the core of who we are. We should nurture them and let them be kids," she said. "It is like someone being left handed and being forced to write with their right.
RELATED STORIES:
Chaz Bono's Parting Words On DWTS: 'I Wanted To Show America A Different Kind Of Man'