11-Year-Old Boy Taking Controversial Hormone Drugs, Claims 'I Am A Girl'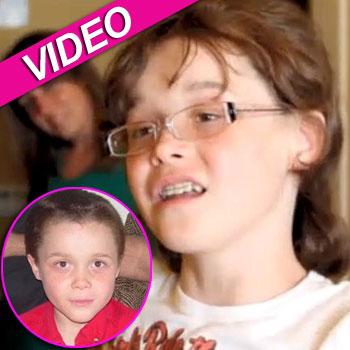 A Berkeley lesbian couple is supporting the wishes of their 11-year-old son to become a girl, allowing him to begin the process of becoming a woman by taking controversial hormone blockers – and RadarOnline.com has all the details.
Pauline Moreno and Debra Lobel adopted Thomas, who now goes by the name Tammy, when he was 2 years old and they claim that at a young age, he identified as a woman.
Article continues below advertisement
At the age of seven, after Thomas got severely depressed and threatened to mutilate his genitals, he was diagnosed with gender identity disorder.
"As soon as we let him put on a dress, his personality changed from a very sad kid who sat still, didn't do much of anything, to a very happy little girl who was thrilled to be alive," Pauline Moreno told CNN about the first stage of their son's transformation – allowing him to wear girl's clothes.
"If you give your child the opportunity to be who they are, they know very well who they are."
Now, age 11 and going by the name Tammy, the child has just commenced her first month of hormone blockers to prevent the development of masculine features during puberty.
"When she is ready she will be able to decide which way she is gonna go through puberty," Debra Lobel explains. "She will have either female hormones or she will stop the hormone blockers and become a man."
Article continues below advertisement
The lesbian couple, who have two other children (who have no gender identity issues), are getting blasted by friends and family for their decision to support Tammy, which they insist has nothing to do with their own personal sexuality, only the happiness of their child.
"We have to allow Tammy to lead the way because we are not transgender," they explain about their decision. "And I do not think we completely understand it."