Inside Satan's Den Where The Notorious Toy Box Killer Tortured His Victims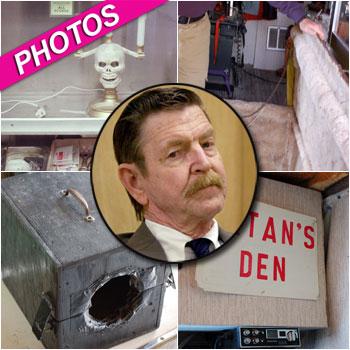 Police have opened the door to the horrors of Satan's Den in an effort to find up to 40 more victims of the twisted 'Toy Box Killer,' and RadarOnline.com has photos of the chilling crime scene.
A decade after David Parker Ray was convicted of sexually torturing and kidnapping women in the small town of Truth Or Consequences, New Mexico, investigators are back searching the area for human remains.
Article continues below advertisement
Parker was catapulted to the ranks of one of America's grisliest serial killers when details emerged of the home-made torture chamber that he called his "toy box" and spent $100,000 equipping with his "friends," which included whips, chains, pulleys, straps, clamps, leg spreader bars, and surgical blades and saws.
Authorities focused their search on Tuesday at the Elephant Butte Reservoir and nearby caves in the belief that Ray, who died in jail in 2002 while serving a life sentence, chose the scenic spot to dispose of countless bodies, reported the Los Angeles Times.
Around 30 people scoured the area after they were tipped off that some remains may be buried there, including those of 22-year-old Jill Troia, who went missing in 1995, but as yet all that has been found are animal bones.
Ray's pimped out trailer was within view of the picturesque reservoir and the scene of his heinous crimes. Police discovered the torture chamber, dubbed Satan's Den because of a sign written in red on the wall, after a living victim destined for death escaped and was found naked, wearing only a studded dog collar and chain, in March 1999.
Article continues below advertisement
Kidnapped Cynthia Vigil had managed to break free of her chains and then stab Ray's accomplice, Cindy Hendy, in the neck with an ice pick before running to freedom.
Ray and Hendy were arrested and police went on to make chilling discoveries in the Den, including sex toys, syringes and detailed diagrams drawn by the killer showing how he planned to torment his captives.
Among the bone-chilling photos of the toy box are a fur-lined coffin where Ray would place his victims to torture them, and a box with a hole cut out where he would put their heads inside.
MORE ON:
Celebrity Justice
Another shot shows instruments of extreme pain affliction such as forceps, knives, a stethoscope, baby oil and a skull shaped candelabra, along with a video camera to film the whole ordeal.
The grotesque evidence and testimony from Vigil and two other victims was enough to get Ray convicted and sentenced to 224 years in 2001, despite no bodies being found.
The latest search was sparked after Hendy, who received 36 years for her role in the crimes after she agreed to cooperate, told the police that Troia was dumped in the reservoir.
Article continues below advertisement
Troia was last seen in October 1995 at a restaurant in Albuquerque with Ray's daughter, Glenda Jean Ray, whom she had dated.
Despite the fruitless search on Tuesday, FBI spokesman Frank Fisher said they are not giving up. "We plan to come back in the near future to do a more thorough search of a few points there. There are some areas we want to take our time with," he told the Los Angeles Times.
RELATED STORIES: