Robert Downey Jr. Begs Hollywood To 'Forgive' Mel Gibson'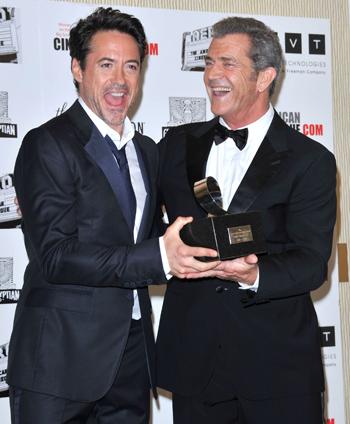 Robert Downey Jr. was the honoree at Friday night's American Cinematheque Awards but it was Mel Gibson who stole the show.
Gibson was the surprise celeb who made the presentation, and Downey returned the favor by making an impassioned plea to the star-studded audience to "forgive" Mel, and more importantly, to hire him.
"Unless you are without sin – and if you are, you are in the wrong f**king industry, you should forgive him and let him work," Downey said from the stage.
Article continues below advertisement
The two men co-starred in Air America in 1990, a time when Downey's substance abuse problems made it impossible for the producers to insure him. Gibson fought for his friend, even posting the insurance bond himself.
"He taught me many things and I will use the 'C' word, courage. There's nothing so much wrong with him. Of course you have to worry about the guy making the judgment here," Gibson joked as he made the presentation. "He's a good dude with a good heart."
Downey wanted the audience, which included several studio heads and top producers and directors, to think the same of Gibson.
""Mel and I have the same lawyer, same publicist and same shrink. I couldn't get hired and he cast me. He said if I accepted responsibility – he called it hugging the cactus – long enough, my life would take meaning. And if he helped me, I would help the next guy. But it was not reasonable to assume the next guy would be him," the Sherlock Holmes star said.
MORE ON:
Celebrity Justice
Article continues below advertisement
Downey then hugged Gibson and urged everyone to allow Mel to move forward with his career "without shame."
Gibson's box office has plummeted since RadarOnline.com exclusively published audiotapes of Mel ranting at his then-girlfriend Oksana Grigorieva, with whom he has a daughter Lucia.
On the tapes, Gibson was heard threatening to kill Oksana, burn down her house, and even admitted to hitting her.
And the troubles between the pair continue. As RadarOnline.com exclusively reported, Oksana is headed back to court on Tuesday. She's set to tell a judge that Gibson is an "absentee father" and request a change in their custody agreement.